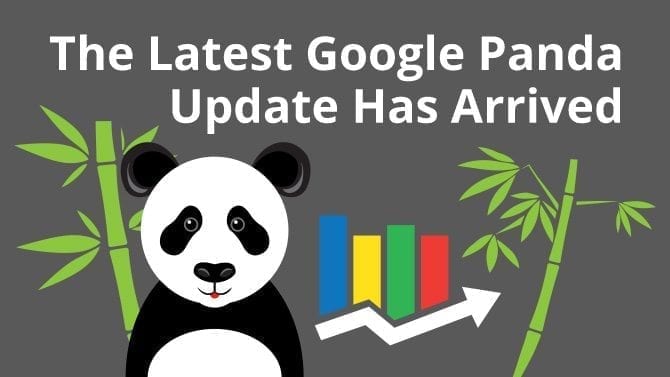 The Latest Google Panda Update Has Arrived
For the past ten months, SEO managers have been waiting anxiously for the next Google Panda update. After weeks of rumors and hints from Google, Panda Update 4.2 has finally made its debut (on July 18th)—but hardly anybody noticed.
Reminder About Google Panda Update 4.2
Before we get into the details of Panda Update 4.2, let's do a quick recap of what the Panda algorithm is all about. From Penguin to Hummingbird to Pirate and Pigeon, Google certainly doesn't make it easy to keep all of them straight. In short, Google Panda is an algorithm that is focused on filtering out the sites with poor quality content. It was introduced in February of 2011, and it has seen a lot of updates in just four-and-a-half years.
29 Updates and Counting
Even though this update is officially labeled Panda Update 4.2, it is actually the 29th time the Google Panda algorithm has been tweaked, as reported by Search Engine Land. But this one is a little bit different than usual. Instead of a change happening seemingly overnight, making it easy to tell if you were positively or negatively impacted, Panda Update 4.2 is going to take a month, or more. So it is going to be hard to tell if your site rankings are altering because of the update, or because of something else.
What to Expect
This is a decent update and it will affect 2-3% of English queries, so it's definitely something to keep in the back of your mind when looking at your numbers. If you've been hit by a Google Panda update in the past, and you have made some changes to rectify the situation, you will definitely want to keep a close eye on your rankings in the next few weeks to see if you have combated your penalty.
And if you notice a drop in your place on the SERPs in the coming weeks, take a close look at the quality of your content. Make sure all of your pages have unique, interesting, grammatically correct words, and then cross your fingers that another Google Panda update is around the corner.
One More Thing
Just a note: Even if the Google Panda Update 4.2 has yet to hit your site, it's too late to make any changes. Well, we should say it's always a good time to improve the quality of your site, but if you want Google to notice, you are going to have to wait for Panda 4.3—and who knows when that will rollout.
When an update is announced, some people are thrilled and others are nervous. To ensure you never have to be worried about an algorithm update taking down your site again, contact Zero Gravity Marketing. We are always up on the latest ranking factors so we can keep your site ahead of the curve.