When it comes to digital marketing, certain questions come up time and time again as things evolve. For example, one query that pops up whenever something changes is: "Is SEO dead?" With technological advancements, especially the rise of artificial intelligence (AI) and the continuous evolution of search engine algorithms, many marketers and business owners have started questioning the continued relevance of search engine optimization (SEO). However, we think it might be time to clear the air: SEO is far from dead. In fact, the need for it is greater than ever. Let's go deeper into why…
Is SEO Dead?
The short answer of, "Is SEO dead": Absolutely NOT! SEO has had many hurdles and hoops to jump through since the inception of search engines. SEO has always been about evolution, from the introduction of featured snippets to adapting to the nuances of voice search. While the tactics and strategies have transformed, the foundational principle of optimizing for search engines remains essential.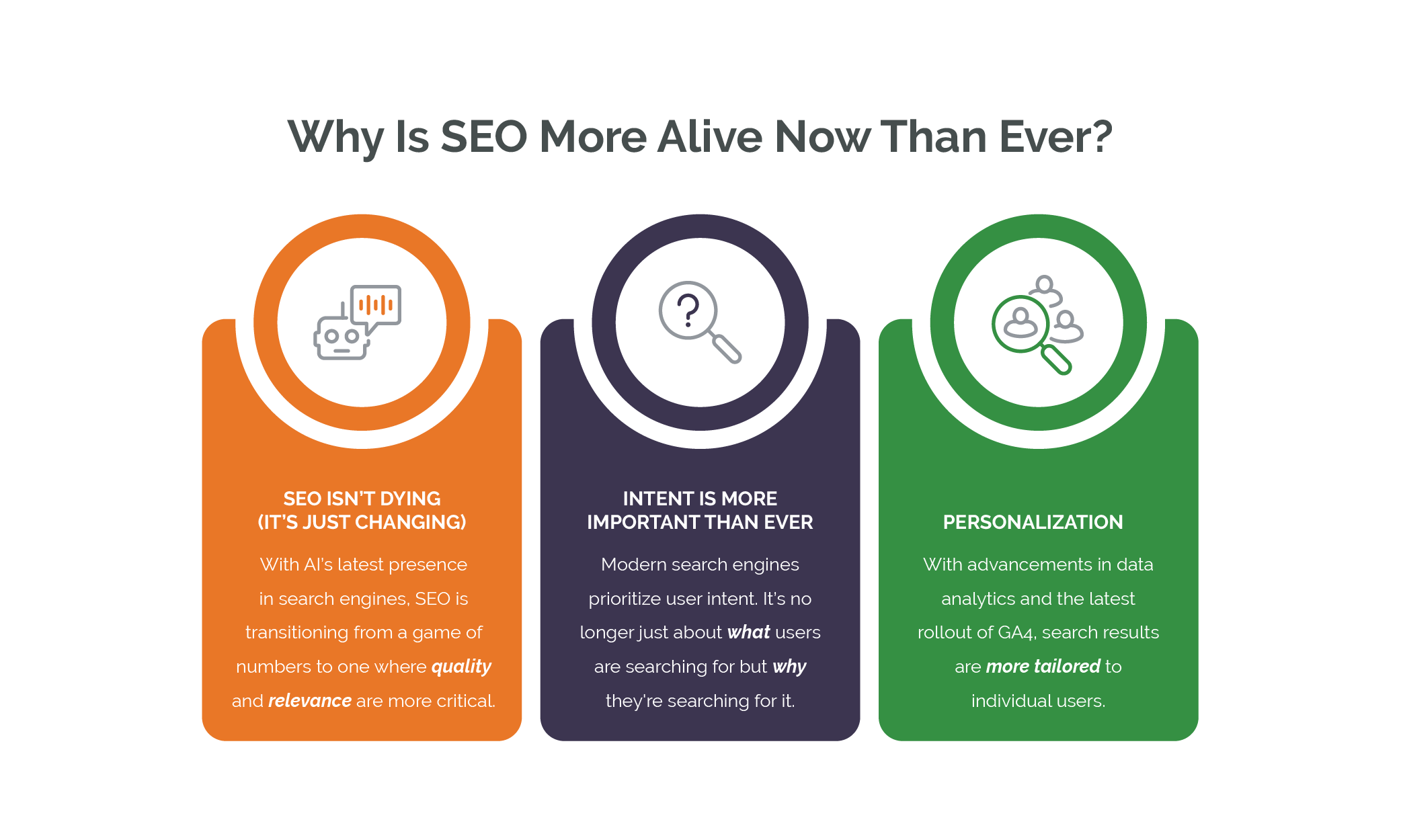 Why Is SEO More Alive Now Than Ever?
SEO Isn't Dying (It's Just Changing): Like any active industry, SEO is in a state of fluctuation. With AI's latest presence in search engines, SEO is transitioning from a game of numbers to one where quality and relevance are more critical. Natural SEO, which emphasizes genuine content and organic strategies, remains at the heart of the SEO evolution.
Intent Is More Important Than Ever: Remember when keyword stuffing could guarantee high rankings? It's no secret that things have changed, and this should not be your main strategy in your SEO efforts. Modern search engines prioritize user intent. It's no longer just about what users are searching for but why they're searching for it. This shift emphasizes the importance of creating fresh content that addresses users' specific needs and queries.
Personalization: With advancements in data analytics and the latest rollout of GA4, search results are more tailored to individual users. This personalization means businesses need a greater understanding of their audience's preferences and behaviors to ensure their content appears in these bespoke search results. It's important to dive deeper into your website's analytics to understand the reasoning behind your results and change your digital marketing strategies accordingly to reach your intended audience better.
What Is the Future of SEO?
When it comes to the SEO industry and whether or not implementing an SEO strategy should still be a top priority for your brand, the simple answer is yes! The future of SEO is promising, and while AI will, without question, influence search algorithms, it won't take away from the need for SEO. Instead, it will refine and redefine it, making it more important than ever to keep on top of your strategy. The emphasis will increasingly shift towards understanding user behavior, deciphering intent, and delivering personalized user experiences. For a comprehensive understanding of how SEO is shaping up and strategies to utilize, explore these SEO ranking tips.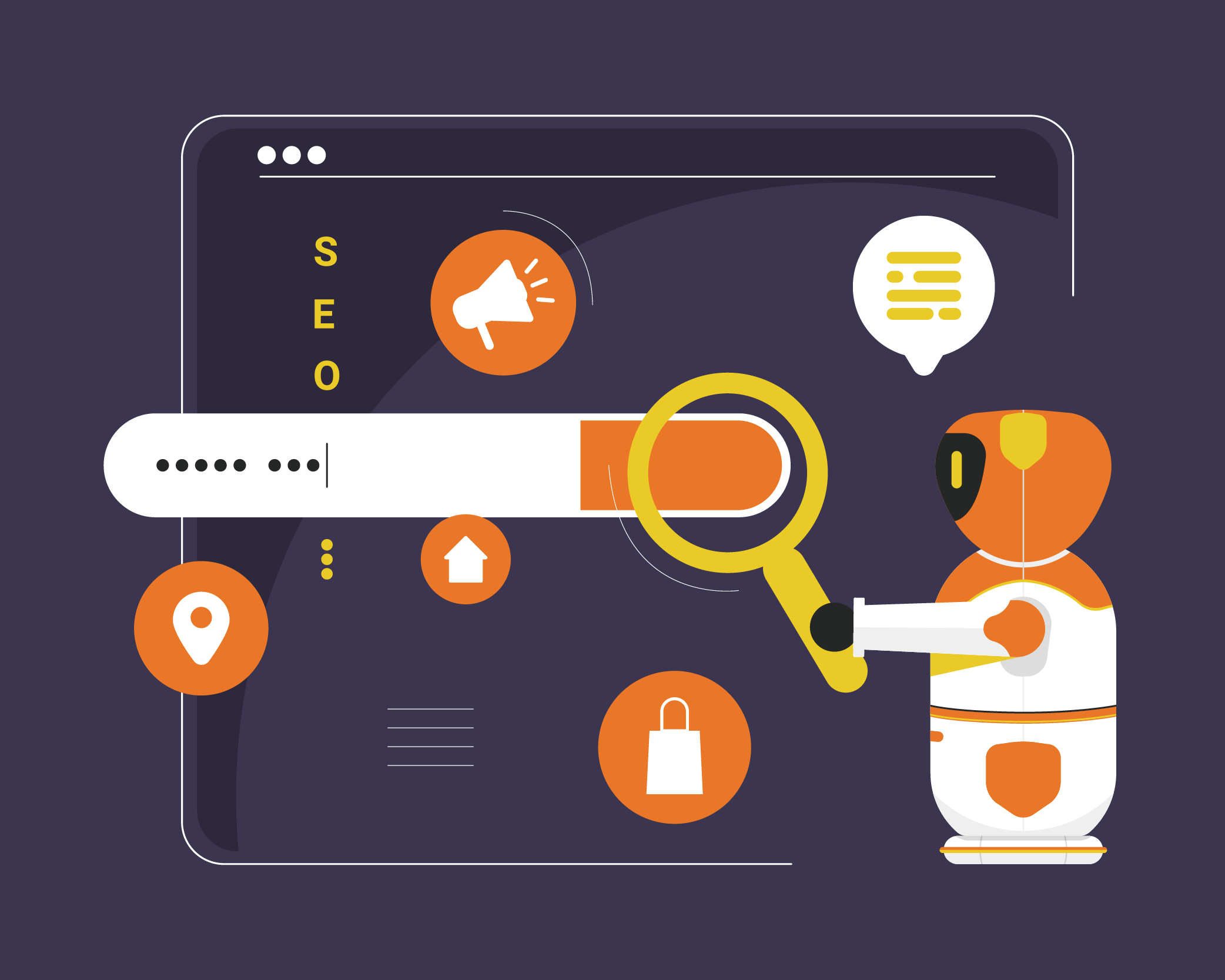 Frequently Asked Questions:
Is SEO a dying industry?
Far from it. While SEO is evolving, it remains an important strategy to incorporate into your digital marketing efforts. It's pivotal for driving organic search traffic, enhancing brand visibility, and building credibility in the online space.
Why should I continue to do SEO?
Beyond driving organic traffic, SEO offers invaluable insights into user behavior, market trends, and competitive landscapes. It's a tool that, when wielded right, can significantly boost return on investment (ROI). Dive deeper into crucial SEO metrics to understand its multifaceted benefits.
How has SEO evolved?
From the early days of simple keyword matching to today's complex algorithms that consider user intent, voice search, AI predictions, and more, SEO has consistently evolved to meet the demands of a changing digital ecosystem.
In Conclusion: SEO's Resilient Journey
When it comes to SEO, its story is certainly not over. As search engines evolve, so does SEO, and its resilience and adaptability show the constant effort to bridge users with the information they seek. To navigate this ever-changing landscape and ensure your business remains ahead of the competition, reach out to Zero Gravity Marketing for expert insights and guidance in order to reach your ultimate goal.