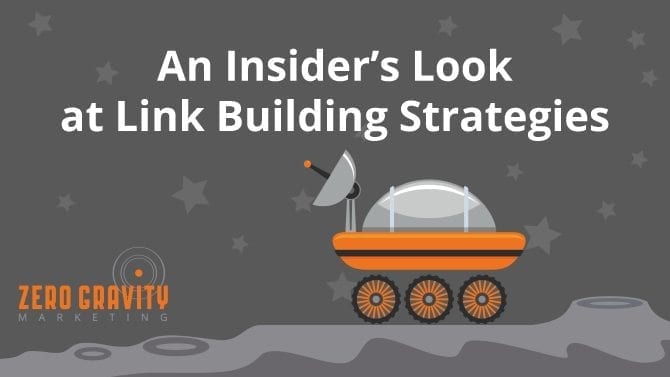 An Insider's Look at Link Building Strategies
Link building is one of the key SEO factors used to determine your ranking in search results. When you have a lot of authoritative sites saying you are worth visiting, Google gains confidence in you and will show you in more queries—it's that simple. We have already covered several ways for you to build up backlinks using relationship building and powerful content, but now we are going to take it one step further and give you an inside look at our personal link building strategies.
Locate Relevant Websites
Before we start building up backlinks, we have to find relevant websites that are actually worth receiving an inbound link from. That's why the first of our link building strategies is to locate sites that have clout in your industry. We do this by studying their ranking scores, domain authority, page authority, and spam score in Moz. By using our tools to review these stats, we are able to make a list of sites that we would like an inbound link from, as well as the sites we need to avoid.
Negotiate Pricing
With our high-quality website list in tow, we begin contacting the site owners to see what it would take to get a link from them. We use our negotiating skills to determine a fair one-time price for the inbound link to your site. This is a mutually beneficial strategy that is tried and true, and it is key to building a respectable backlink profile for your site.
Follow Up Regularly
Our link building strategies are no good if the website only puts your link up to get paid and then takes it down, so we always monitor the inbound links to ensure they stay in place. If, for some reason, your link gets removed, we will be in contact with the website owner to make things right.
Remove Spammy Backlinks
Gaining new links is only one part of our link building strategies; the other is to monitor all of the links coming in to guarantee there are no spammy ones that will get you penalized by Google. We do this by comparing your inbound links with the site's spam scores to make sure you are only receiving links from quality sites. If we locate a not-so-admirable inbound link, we will instantly disavow it before it has a change to affect the natural search rankings you have worked so hard to achieve.
At Zero Gravity Marketing, we know how crucial effective link building strategies are, and we have a proven method that will get you results. Our top-of-the-line tools paired with our industry knowhow are unbeatable, and it's time to put them to work for you. Contact us today to find out more.