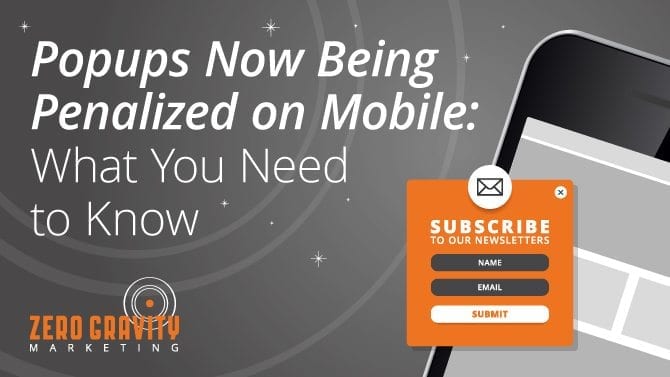 Have you ever clicked on a link in the SERPs, only to be bombarded with a pop-up ad, a newsletter signup form, or some other large block of text you have to clear before you can see the content you actually wanted? This is called an interstitial, and if you use them on your site, you may now be penalized. Google announced that it would be working on a way to cut back on interstitials in August of 2016, and as of January 10, 2017, the mobile interstitial penalty is officially live.
Why the Mobile Interstitial Penalty Was Introduced
Google's number one goal is to give their users what they want – quick solutions to every query. Clearly, if the user has to deal with a popup before they can access the information they seek, they may become frustrated. Google wants to end this frustration so its users continue to trust its search platform.
How Severe Is the Penalty?
Any Google penalty should be something to fear, as you are relying on a top spot to improve your click-through-rate, conversion percentage, and bottom line. However, the mobile interstitial penalty seems to be especially severe. Search Engine Land reports that several of the sites being tracked have gone down ten spots or more on the mobile SERPs.
Which Interstitials Apply to the Penalty?
There are a lot of different types of interstitials out there, so it's important to know which ones are going to get you penalized, and which ones are okay. First off, the mobile interstitial penalty is only screening for popups that occur directly after someone clicks on the link to your page from the mobile SERPs. If you have a popup appear when they click from one page to the next within your site, Google will not penalize you for that. Basically, Google wants to make the transition from the search results to your page as seamless as possible. If the path throughout your website is not as smooth, that's on you, not them.
While Google frowns upon the full-screen intrusive popups and standalone interstitials, there are a few interstitials that are still allowed without the risk of a penalty. These include popups that are required by law, such as age verifications or cookie usage warnings, as well as login boxes on sites that are not indexable. Popup banners that are minimal in size and can be easily dismissed are also still allowed.
Overall, the mobile interstitial penalty is a great thing for Google search. With a few changes to your advertising strategy, you can be sure that you won't be penalized. For help constructing a comprehensive marketing strategy that will make Google take notice in a positive way, contact Zero Gravity Marketing today.