Project Overview
Morrow Sodali is respected as a leading provider of strategic advice and shareholder services to corporate-level clients around the world. Their firm provides both corporate boards and executives with calculated advice – developed and strategized by their advisory team – and services pertaining to various projects and affairs. These include mergers and acquisitions, annual or important meetings, shareholder advocate initiatives, international equity transactions, and debt restructuring.
Morrow Sodali services both public and private companies, financial institutions, mutual funds, ETFs, stock exchanges, and memberships associations.
The firm's initiative is to leverage and deliver the expertise, information, technology, and resources companies require to effectively engage with their shareholders and maximize support for business initiatives. Morrow Sodali establishes strategic partnerships with its clients by offering efficient and insightful guidance, quality services, and customizable solutions to governance challenges.
Morrow Sodali came to Zero Gravity Marketing with the goal of increasing their visibility and reach among users and within search engines to drive more traffic to their site.
The Challenge
Though Morrow Sodali has an extensive global network of clients, visibility within search engines was their biggest challenge. Due to being a global company with a presence in different countries and continents, language barriers, GDPR restrictions, and different search engines amongst their target audience, it was difficult for the firm to get their site in front of more users worldwide. To broaden their reach and drive new traffic to their page, Morrow Sodali needed to strategize how to overcome these global barriers to appear to a larger pool of users and searches.
Our plan at Zero Gravity Marketing was to help Morrow Sodali achieve their goals by increasing search rankings and driving organic traffic despite the firm's diverse global target audience.
Outcome
To meet Morrow Sodali's goal of increasing visibility and organic traffic, the team at ZGM consulted and analyzed Morrow Sodali's website. Throughout this process, Zero Gravity Marketing assessed the site's current rankings within the search engine result pages (SERPs), determined whether it was search-friendly, and identified any potential opportunities for optimizations. 
After analyzing Morrow Sodali's site data, rankings, and other relevant information, the team at ZGM recommended implementing a strong and strategic search engine optimization (SEO) campaign to further enhance rankings. Our SEO strategists began addressing the "low-hanging fruit" of Morrow Sodali's website by implementing data tracking software such as Google Analytics, Google Tag Manager, and Google Search Console. Once data tracking was introduced, ZGM began to optimize the website accordingly to boost rankings, user reach, and engagement.
50.42%
Increase in Total Traffic YoY (2021-2022)
44.19%
Increase in Organic New Traffic YoY (2021-2022)
Quality and Optimized Content Across Site Pages and Social Channels
38.17%
in Growth for Search Visibility & Keyword Rankings + 2 Featured Snippets
42.85%
Increase in Organic Traffic YoY (2021-2022)
Organic Traffic from 2019-2021 Nearly Doubled
Introduction of Internal Links, Development of M&A Deals Page, Copy Optimization Edits, & Off-Site Link Building Supported Driving Traffic
From 2021-2022 Increased Clicks from 8.8K to 41.3K & Impressions from 267K to 1.82M
SEO Services
Our SEO strategy increased Morrow Sodali's visibility within search engines and drove more traffic to their site. The SEO team did a deep dive into their website to assess current rankings and site data to pinpoint opportunities for optimizations to boost rankings. As a result of our aggressive SEO strategy, total traffic YoY increased 50.42% from 2020 to 2021. Morrow Sodali's site also experienced a bump in organic (new) traffic of 108.4% that same year. The introduction of rich keywords increased Morrow Sodali's search visibility by 38.17%. The SEO work that contributed to these results included our introduction of an M&A deals page, internal links, copy optimizations edits, and off-site link building.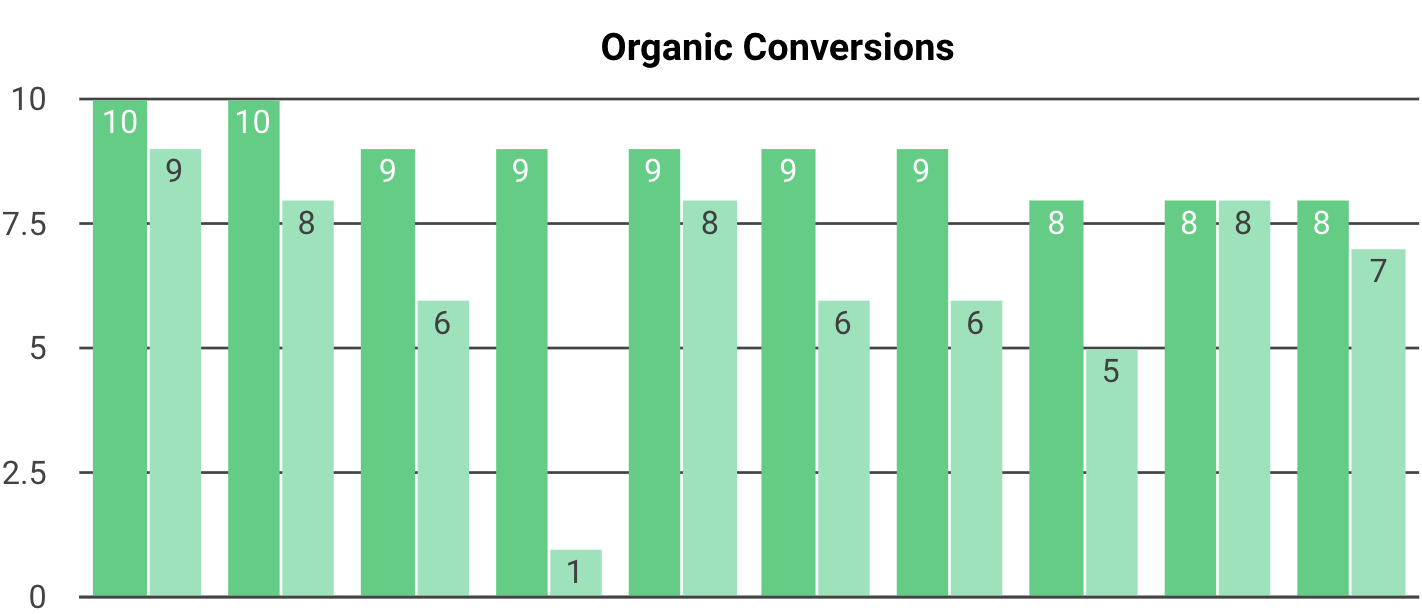 Content Services
ZGM's content team worked on writing and optimizing content across Morrow Sodali's site, specifically category pages. Our content strategy involved creating more relevant and keyword-rich content to help boost rankings and get Morrow Sodali's content in front of their target audience(s).
SEO and Site Development
Content and YouTube Optimizations
Written, Optimized Content for Category Pages
Tag Optimizations 
Monitored Seasonal Trends to Support Fluctuations in Business
ZGM Awards & Recognition