Nardelli's Grinder Shoppe Case Study
Nardelli's Grinder Shoppe is home to Connecticut's favorite sandwiches, or as customers know them, grinders! As a family-owned and operated business for three generations, Nardelli's has continued to satisfy the hunger of those looking for fast and delicious meals with high-quality ingredients, generous portions, and classic customer service. Beginning with one location on South Main Street in Waterbury, to now having 15 locations, Connecticut's best Italian deli has expanded towards a wide variety of menu options including hot and cold grinders, soups, salads, and desserts.
Zero Gravity Marketing (ZGM) began working with Nardelli's when the grinder shoppe was seeking a full strategic digital marketing plan to take their traditional brand to the next level. ZGM fully digitized Nardelli's, introducing the old school business to the modern ways of marketing by implementing online ordering and delivery options, as well as leveraging Social Media and Email Marketing efforts. With customized content and creative, we were able to completely revamp Nardelli's Grinder Shoppe to meet today's contemporary market standards.
The Challenge
The main challenge of creating Nardelli's full strategic digital marketing plan was that we were starting from the ground up with their social media presence. Their brand was traditional, with a history beginning in 1914 when the Nardelli brothers left Italy to come to America to open their storefront. With their success growing continuously throughout the years to follow, it was time that the award-winning small business revamped its social presence with the ZGM team. Nardelli's goal was to leverage their social media following to not only take their brand to the next level, but to attract new owners and customers. We knew from there our top priority was going to be the construction and execution of an entire communications calendar to keep track of social media promotions, giveaways, and more. It was a significant amount of work to create a completely fresh and modern marketing plan that separated Nardelli's Grinder Shoppe from its competition, however, it paid off immensely for their brand.
Outcome
We began by constructing Nardelli's digital marketing plan by implementing a complete growth and engagement strategy. Our team instilled website optimizations for social, which included adding social share buttons on blog content, updating app graphics to encourage users to follow their social platforms, and incorporating social feeds above their website footer for visual support. To promote their online presence, we used organic social media tactics to increase their KPI's such as reach and followers, impressions, engagement, and overall conversions. Through the use of Google Analytics, we determined what actions were taking place on their site when a consumer visited. It was especially important for Nardelli's to appeal to relevant customers and potential franchise owners. To accomplish this, we leveraged Facebook, their most popular platform based on the demographic above to market their small, old-school family business feel while targeting a larger audience. Our team also boosted engagement insights with interactive posts that allowed the Nardelli's community to connect. In addition to targeting specific personas, we handled all Reputation Management through Yelp, Google My Business, and Trip Advisor to separate Nardelli's from the rest by addressing both positive and negative comments with personalized messages. As we developed new marketing strategies, we recognized the need for new assets for each platform. Our team developed social content ideas, including their two most successful giveaways: The Grinder Bracket Challenge and World Cup, both of Nardelli's takes on real-world events to get their target audience excited about their product. By leveraging audience personalization and engagement tactics throughout our Social Media, Email Marketing, and Website Development strategies, we were able to help Nardelli's grow their online presence significantly.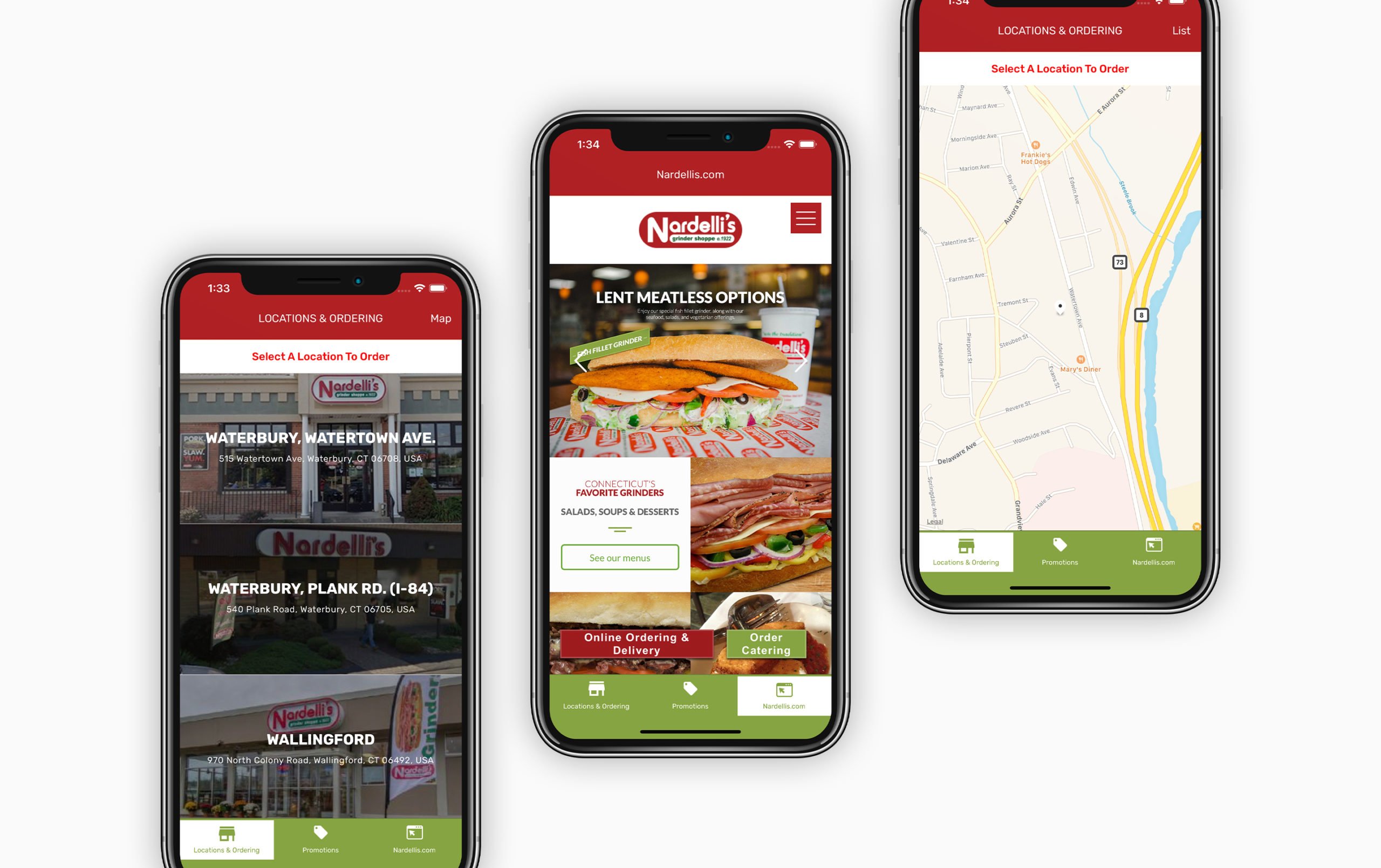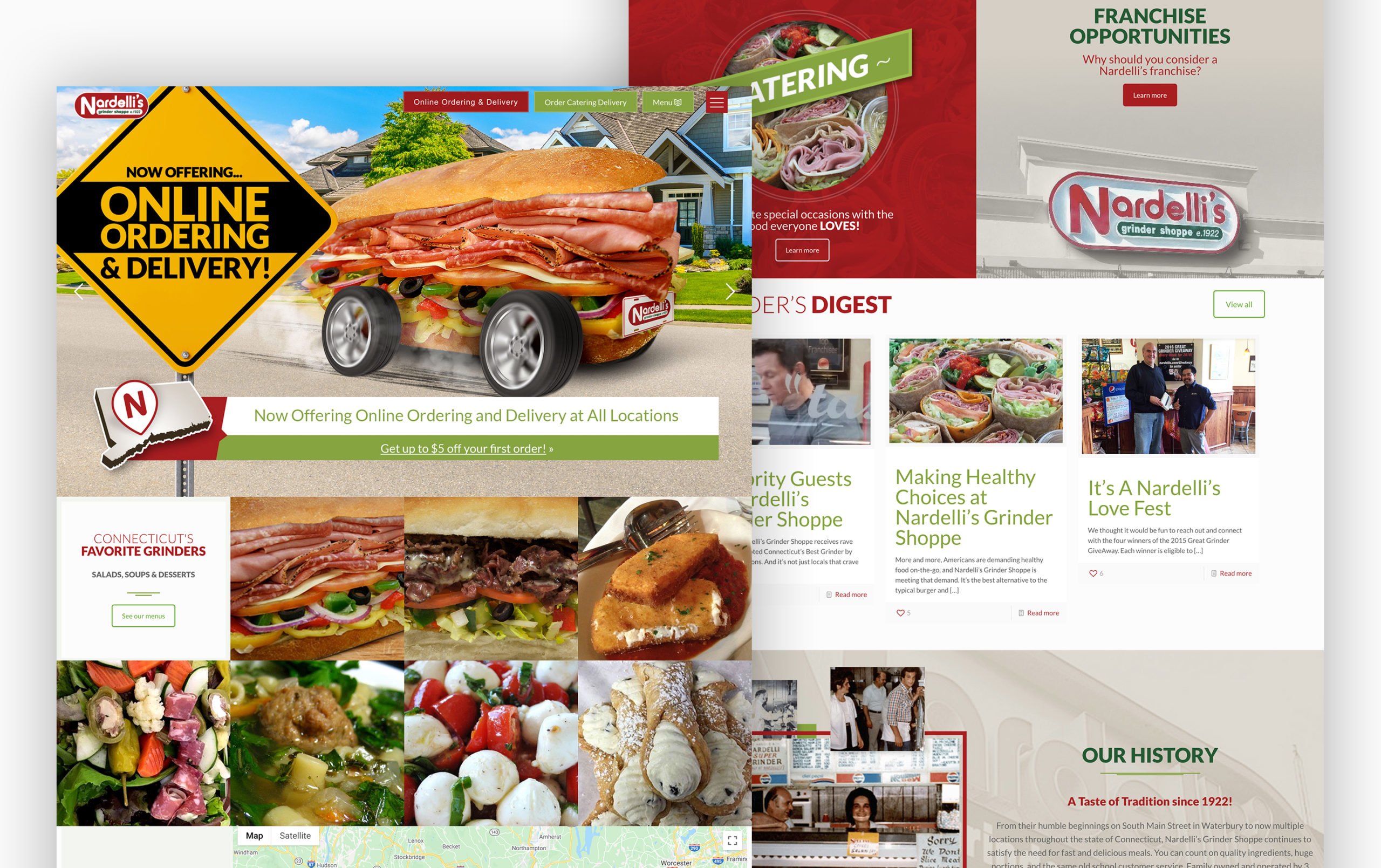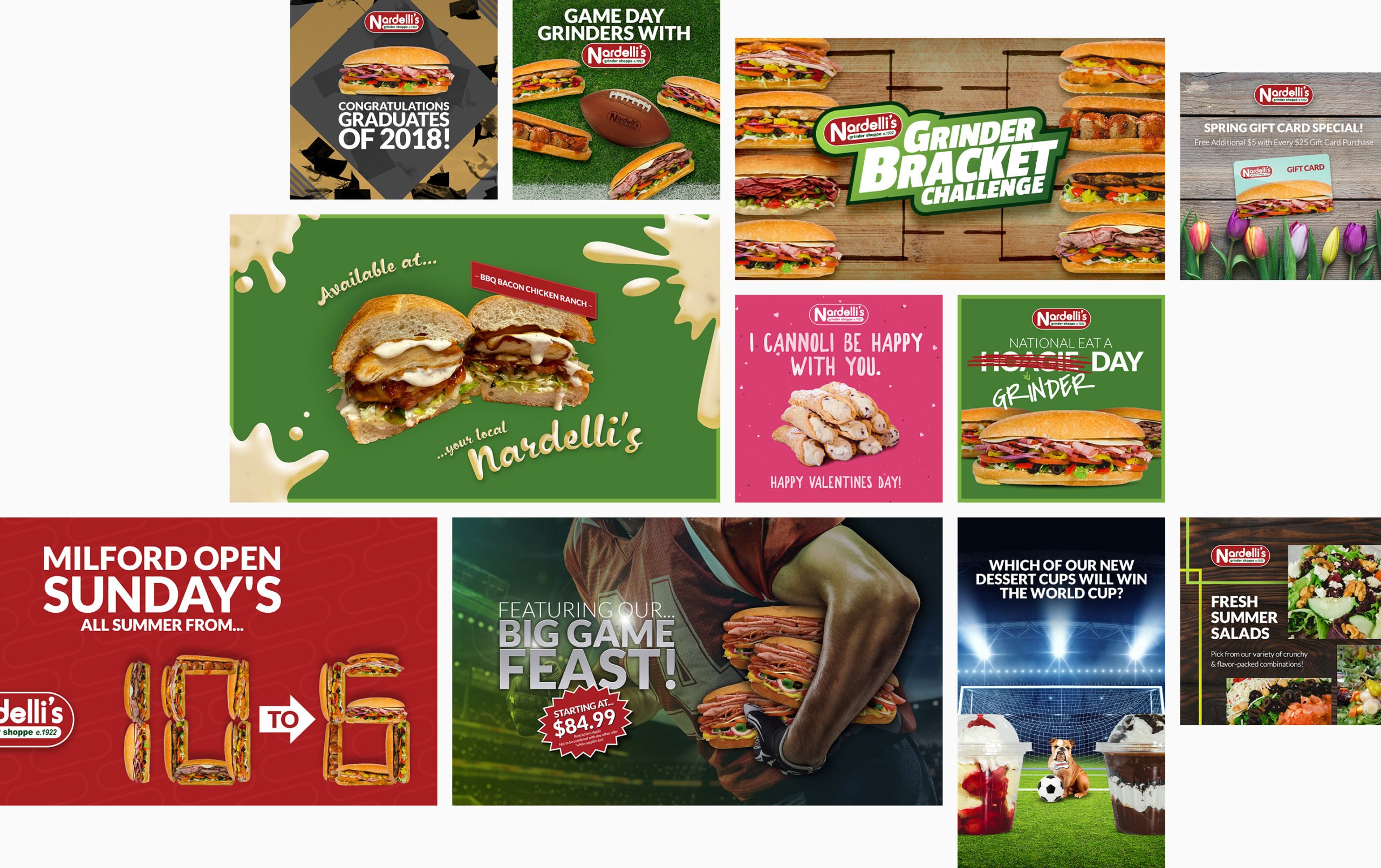 Nardellis wanted an app so that customers could easily find the location closest to them without having to enter a zip code or search. They wanted to give people the ability to get directions and to place orders easily, view promotions and to order catering. In addition, Nardelis needed help advertising the app for it's launch and continued promotion to current customers and new.
ZGM built the app for Nardelllis to match the brand's unique brand style guide. The app is easy to use and is updated automatically with new menu items, catering offerings, etc. making it easy to maintain.
The ZGM team provided a multi-channel approach to marketing the app via Google display ads (targeting customer lists and remarketing lists), paid social ads (Facebook. Instagram, etc), programmatic, email and a homepage hero graphic on the website. App downloads surged upon launch and continue to grow steadily since.
Wins for Nardelli's Influencer Marketing Kickoff January 2022.
Followers grew by 26%, a 3892% increase MOM
Instagram profile visits increased by 416% and website taps increased by 1042% MOM
With influencer and Nardelli's posts combined:
Impressions increased by 1434% compared to Nardelli's average
Accounts Reached increased by 889% compared to Nardelli's average
Engagements increased by 1139% compared to Nardelli's average
Several influencers caught wind of the campaign and either reached out to Nardelli's for future collaboration or took the initiative to post on their own, indicating we satisfied our goal of increasing brand awareness.
To maximize growth and engagement efforts and to expand the Nardelli's brand, Zero Gravity utilized video production and TV media buys. We filmed a brand-new commercial for use on TV, social media, paid ads, and more. The team recorded and edited 60, 30, and 7-second spots for a wide variety of uses. Also, ZGM negotiated and managed cable and broadcast TV media buys and used them for YouTube and Facebook ads. By increasing Nardelli's television presence, their brand can now reach more potential customers.
With our full strategic marketing plan in place, our goal moving forward was to continue driving social media efforts and Pay-Per-Click (PPC) ads through promotions and PR opportunities. To meet that goal, we created an ongoing communications calendar with projected content. This included scheduling multiple Facebook and Instagram posts in advance of each month to promote contests and other campaigns each week. ZGM continues Nardelli's Reputation Management by responding to their reviews and comments on multiple websites including Google, Yelp, and more. In addition, to maximize conversions, we manage Email Marketing efforts by building all email lists and writing, designing, blasting, and reporting on multiple emails per month. Our team has managed all digital media campaigns and buys through Google, Facebook, Instagram, YouTube, Waze, Spotify, and Pandora. Nardelli's Search Engine Optimization (SEO) is monitored by Zero Gravity as well, ensuring that it is updated with new keywords and meta data regularly to yield the best results. Traditional marketing assets were also implemented with developed in-store signage.
In order to leverage all avenues to rapidly grow their franchise and attract new owners and customers, the company needed a reliable platform for consumers to go visit. Our team built a responsive WordPress website that completely altered Nardelli's online appearance. We optimized the website as well as the individual location pages by adding social icons to the top navigation and adding #Nardellis and social share buttons to encourage users to share content. Developing the website through WordPress also allowed for new, responsive Android and iOS apps.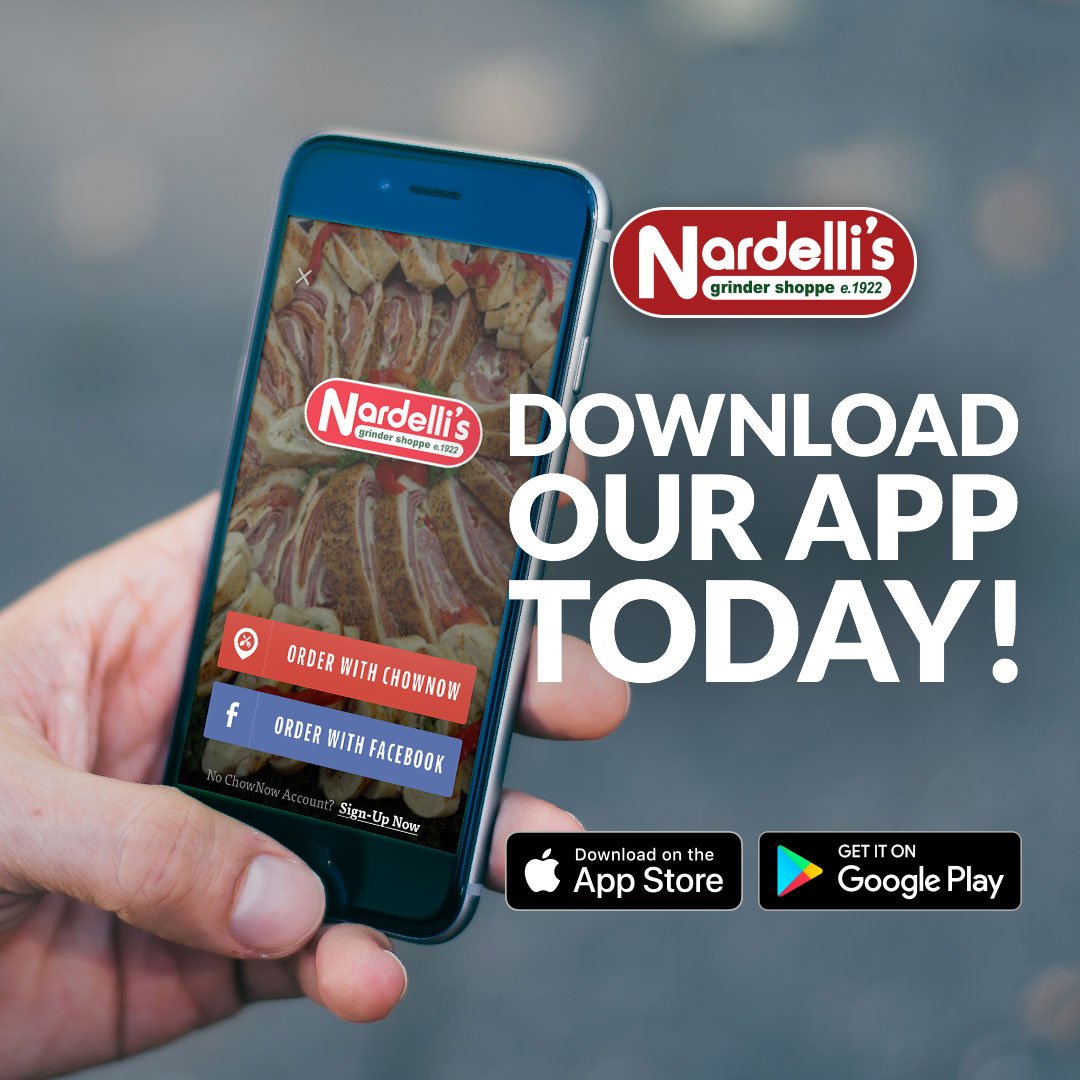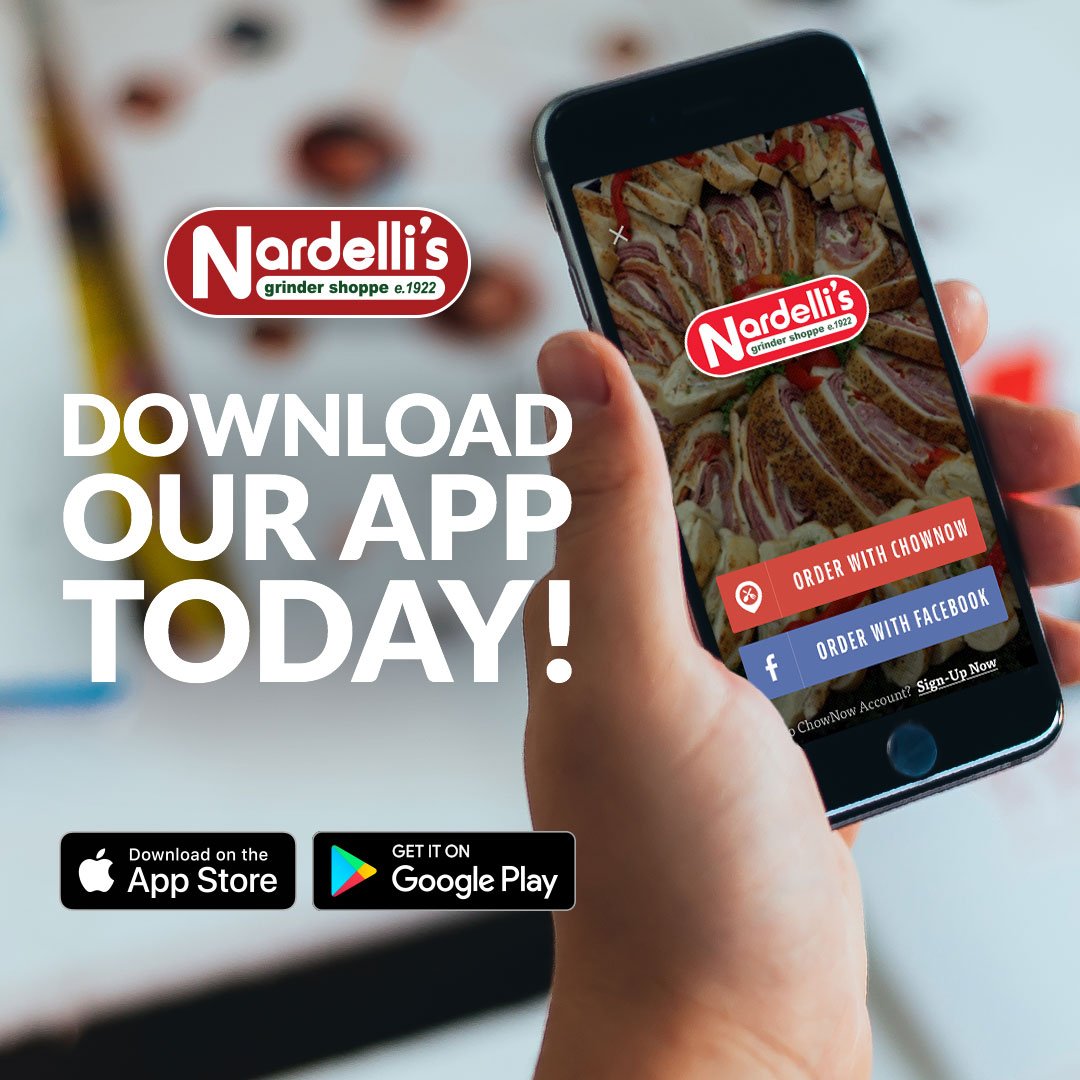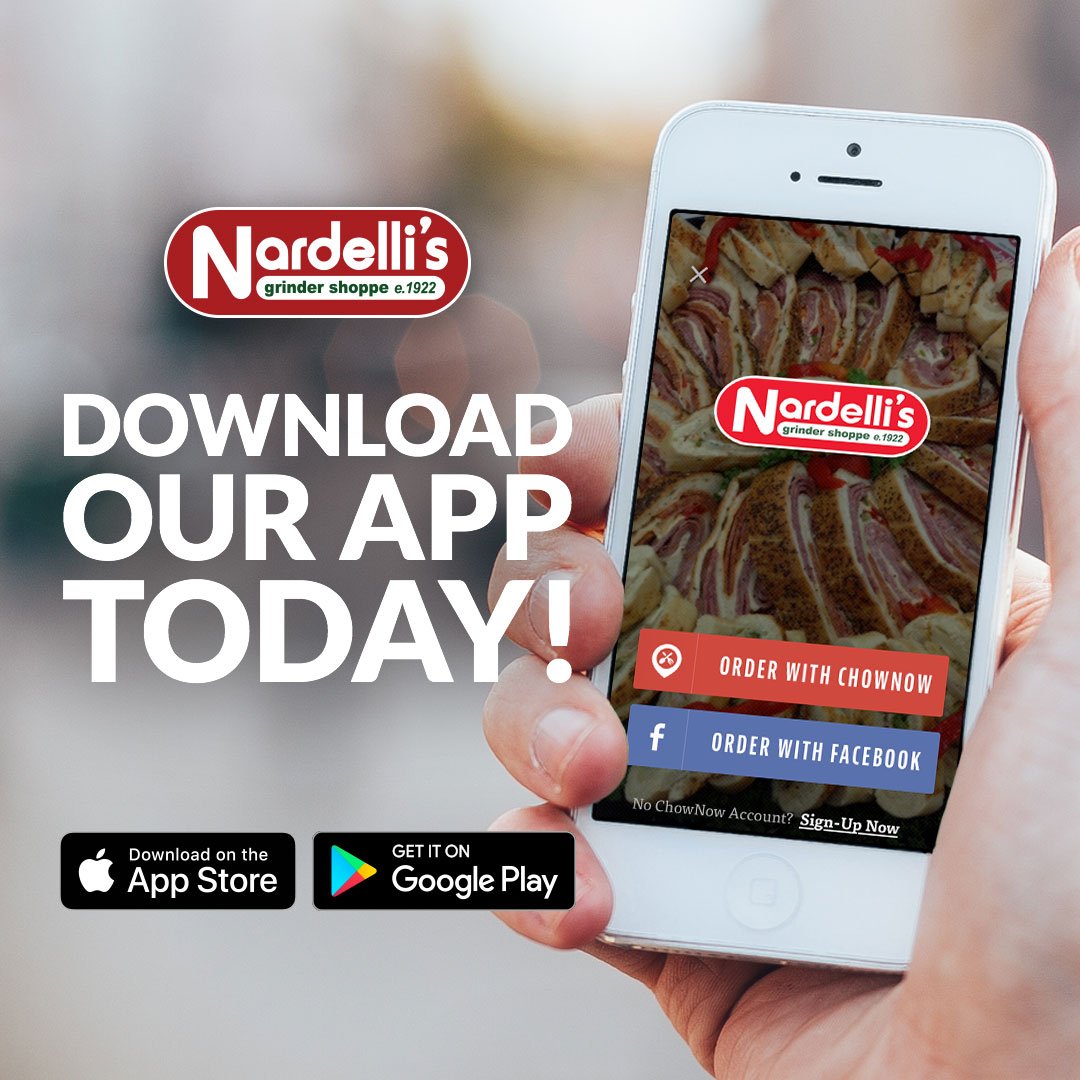 384%
increase in Traffic since 2015
87%
increase in Instagram reach since 2019
61%
increase in Instagram impressions since 2019
79%
increase in Facebook impressions from Q4 2019 vs. Q1 2020
206%
increase in Facebook Engagements from Q4 2019 vs. Q1 2020
13.2%
increase in Facebook Total Likes YoY from Jan 2018 vs. May 2019
13.2%
increase in Facebook Impressions YoY from Jan 2018 vs. May 2019
152k%
increase in Facebook Engagement YoY from Jan 2018 vs. May 2019
7.9k%
increase in Facebook Reach YoY from Jan 2018 vs. May 2019