Project Overview
North American Power (NAP) is an energy choice (or deregulated energy) provider of electricity and natural gas based in Norwalk, Connecticut. Before deregulation, customers received their electricity and natural gas supply from local utilities. In deregulated states, only the supply end of the energy business is open to competition.
This means customers now have the option of choosing the power company that purchases the natural gas and electricity their utility then delivers to them. Customers are no longer "stuck" with one option; they can choose their provider. This gives them the liberty to "shop around" for energy suppliers that offer products and services that meet their specific needs.
As a competitive electricity and natural gas supplier, North American Power provides wholesale energy and offers a variety of energy rates and plans to choose from. NAP's prior approach to marketing – before partnering with Zero Gravity Marketing – involved direct mail (postcards) monthly, Google paid search and branded keywords, and email campaigns to acquisition and retention channels.
The Challenge
NAP knew that they needed to evolve their approach to be more strategic, leveraging digital marketing to boost their brand. Their past efforts relied primarily on traditional advertising and direct mail. Plus, their website had not been optimized for search engine optimization (SEO), and basic Google ad campaigns had been tested but were not actively running. NAP also needed to better leverage email for more quality results.
In assessing their marketing strategy and performance, North American Power knew they needed an agency with digital marketing experience to help them reach potential customers more effectively. NAP's results from previous marketing channels were declining, so they needed an expert team to completely re-work their strategy for better results.
In their first introductory meeting, ZGM analyzed North American Power's past marketing efforts, which facilitated a meaningful and productive discussion about what changes could be made to improve performance. NAP appointed ZGM to provide a new strategy for their digital marketing approach, as methods that once worked were now obsolete and no longer effective.
Outcome
ZGM's strategy was to evolve NAP's approach from single-channel marketing to multi-channel marketing. The first step in developing this strategy is understanding that it takes multiple touchpoints before a potential customer converts while also creating a plan to bring cohesion to every channel. ZGM understood that it requires generating awareness at the top of the funnel, remarketing to keep potential customers engaged, and implementing paid search to convert prospective customers searching on purchase intent keywords.
Zero Gravity Marketing also launched post-enrollment campaigns to encourage brand loyalty, re-enrollment, and drive winbacks. One area ZGM focused on, in particular, was ensuring NAP was outranking competitors when being searched, successfully increasing North American Power's rankings in the search engine results (SERPs) significantly and in a short amount of time..
The Zero Gravity Marketing team met with NAP monthly to assess and review results, insights, recommendations, and status updates. Following these touch bases, ZGM's account executives managed all tasks and handled follow-ups to ensure projects kept moving efficiently.
101%
YoY increase in PPC leads
CPC was the lowest it
has been to date as of May 2021
After two years of SEO, NAP's site ranked on the first page of search results for 259 out of 507 keywords,
whereas prior, they only ranked for two of 502 keywords
100%
YoY increase in top of funnel enrollments
98%
Increase in organic traffic over one year
PPC
Zero Gravity Marketing developed a comprehensive PPC strategy for NAP, which included creating video content for Youtube and Facebook PPC, Google and Bing paid search on branded and competitor keywords, and "save money" and "rates" paid search campaigns. The PPC team at ZGM also worked to develop remarketing and protecting display, utilization of smart bidding and AI optimization, and regular change in offers, landing pages, and creative by market.
As a result of these strategic efforts, PPC leads increased by 101% YoY and decreased cost per conversion (CPC) by 13.21% YoY. As a result of the bottom of funnel campaigns, enrollments were up by 61% month over month (MoM) and 82% year over year (YoY).
As of May 2021, total enrollments were up 22% YoY, and CPA was down by 16% YoY. In addition, top of funnel enrollments were up by 100% YoY, CPC was the lowest it has been to date, and the conversion rate was .64% which is the highest of all time. There were also a total of 26 view-through conversions, and the bottom of funnel conversion rate was up by 10% YoY.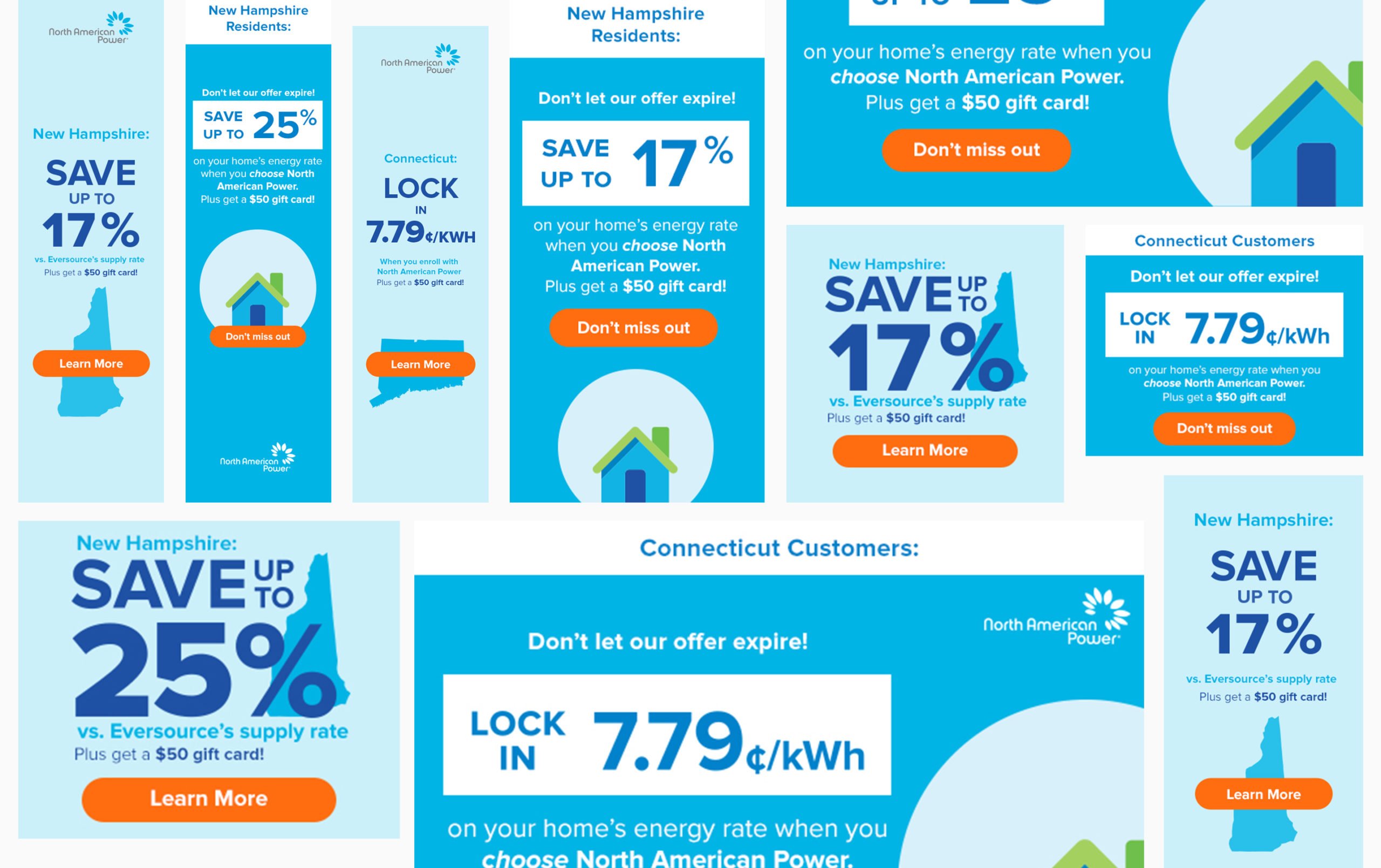 SEO – Organic Search Rankings and Organic Search Traffic
When North American Power first started SEO, the website only ranked on the first page of Google's SERPs for two out of 502 keywords. After only a year's worth of SEO efforts, NAP's site ranked on the first page of the SERPs for 259 out of 507 keywords. ZGM's superior SEO services also helped NAP to reach their ideal potential customers by targeting custom and similar audiences.
From May 2017 to May 2018, organic search site traffic grew from 2,971 monthly site visits to 5,912 monthly visitors, a 98% increase in organic traffic.
ZGM's content and SEO teams also adjusted NAP's messaging based on a customer's level of interest and location in the funnel (education, lead nurturing, and bottom-of-funnel conversion). This strategy helped North American Power target these audiences more accurately and move them through the buyer's journey to conversion.
Paid Social
As a result of ZGM's paid social strategy, May 2021 experienced 85 enrollments from Facebook,
the highest ever to date.
Email
To make North American Power's marketing strategy more digitally dependent and user-friendly, fewer direct mail (postcards) are set to drop when rates change in their favor. ZGM has also introduced reverse appends on mailing lists and coordinated email marketing campaigns to re-target customers.
Organic SEO
PPC campaigns for Facebook
Video content creation for YouTube and Facebook PPC

PPC search campaigns
Remarketing and prospecting display

Smart bidding and AI optimization

Email marketing campaigns
Site optimization
ZGM Awards & Recognition