Nutmeg State Nutrition Case Study
Founded in 2007, Nutmeg State Nutrition is a diet food retailer with a brick-and-mortar location in Wallingford, Connecticut, as well as an online store that ships nationwide. Nutmeg offers a variety of diet foods at a fraction of the cost of many doctor-prescribed weight loss programs. In addition to their low prices, the company differentiates itself by offering a vast selection of products and multiple promotions throughout the year. Led by the owner himself, Jim Montano, Nutmeg has built a loyal customer base through its high-quality foods and exceptional customer service.
The Challenge
Since Nutmeg State Nutrition first opened its doors, the diet food industry has become quite saturated, with numerous new brands popping up on the internet each year. Naturally, this has created a lot more competition in the space. Many unofficial and unapproved retailers are also buying inventory at wholesale and selling it on Amazon at less than the manufacturers' minimum allowable pricing. This has created a unique challenge for Nutmeg State Nutrition, leading them to seek help from the Zero Gravity Marketing team.
Having worked with other agencies in the past, Nutmeg was looking for one that could handle all of its website design and development needs, as well as digital marketing services. Jim wanted a local agency that he could trust, as well as one that offered full-service digital marketing at an affordable price. To outshine the competition, Nutmeg needed an agency that would provide the strategy and attention required to drive great results. We are proud to say that Jim found that in ZGM.
When we first began our work with Nutmeg State Nutrition, the website was in disarray. Specifically, the search engine optimization (SEO) tags weren't optimized, and the site was experiencing a variety of technical issues. To get Nutmeg's web presence back on track, we began by rebuilding the website to provide a better user experience.
Once the website was redesigned and launched, we employed various SEO, Pay-Per-Click (PPC), and email marketing strategies to acquire customers and gain repeat purchases. This included revamping Nutmeg's title tags, meta description tags, header tags, and image ALT tags and completely rebuilding their Google Ads and Facebook Ads accounts with a focus on reaching new customers.
Outcome
Our first full year of marketing for Nutmeg State Nutrition was in 2020. Despite the challenges of the Coronavirus (COVID-19) pandemic, we achieved the best results they have ever seen – with almost double the amount of revenue than the previous year. Each month's results starting in January 2020, before the pandemic, were better than that same month in all prior years. Most of the results can be attributed to driving more high-quality traffic to the Nutmeg website and improving conversion rates.
Additionally, we reduced order fraud and allowed Nutmeg to process payments from people who would have otherwise been declined due to a false positive with Signifyd, an eCommerce fraud protection platform. We also improved efficiency for Jim and his team by channeling all orders into ShipStation, a shipping software that offers a variety of order fulfillment tools.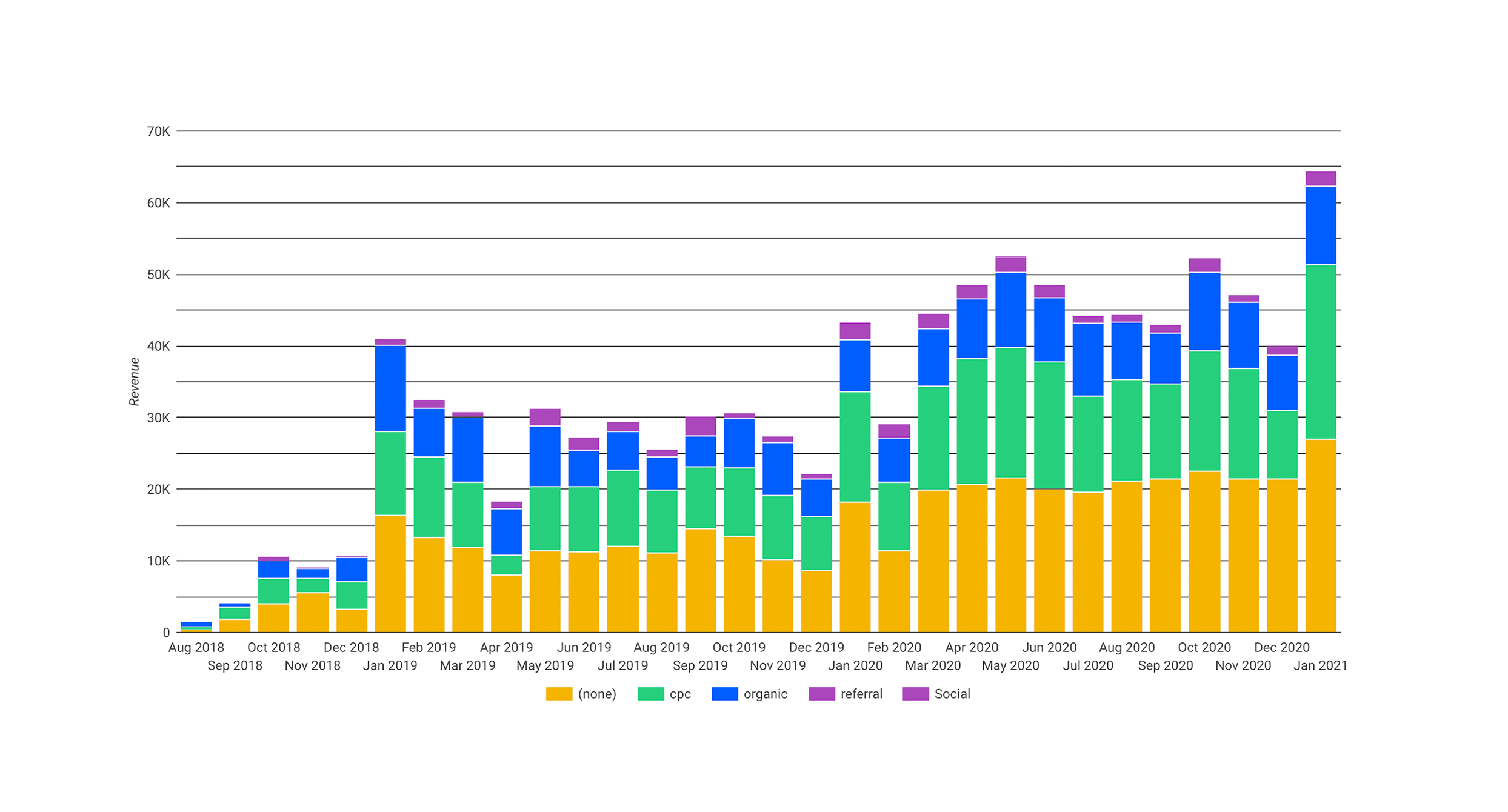 To drive traffic to the Nutmeg State Nutrition website and improve conversion rates, we utilized various on-site SEO tactics. First, ZGM revamped SEO tags across all pages on the website to ensure they were optimized for search. These included title tags, header tags, and image ALT tags. We also updated meta descriptions to ensure they followed best practices. From there, our SEO team collaborated with our content team to create optimized blogs, product descriptions, and more to help with keyword rankings, internal linking, and more.
Like many retailers, one of Nutmeg State Nutrition's business goals was to encourage customers to make repeat purchases, nurturing a group of brand loyalists over time. To help them achieve this objective, ZGM created and executed an email marketing strategy to promote exclusive sales. The emails also included links to specific products to encourage users to click through and make a purchase.
Zero Gravity Marketing's content team supported both SEO and email marketing efforts through content creation. As part of our search engine optimization strategy, we wrote monthly blogs on nutrition, dieting, and weight loss and optimized them to include relevant keywords and internal links. We also wrote strategic emails to promote current sales, discounts, and other offerings and guide subscribers to specific product pages.
In addition to driving organic traffic with SEO, ZGM leveraged paid advertising channels to acquire new customers. Our team completely rebuilt Nutmeg State Nutrition's Google Ads and Facebook Ads accounts to focus on this objective. With this new approach, we were able to increase revenue with very few changes to the ad budget, resulting in a return on ad spend (ROAS) of 19.64. Additionally, we reduced wasted ad spend due to click fraud through the use of Clickcease.
The Zero Gravity Marketing development team worked to rebuild and redesign the Nutmeg State Nutrition website to provide better usability and stability. We also resolved all technical issues that were present when we first began our work. This involved migrating the website (which was originally built on Magento) to BigCommerce. The new platform offered an array of eCommerce features that Nutmeg needed to sell their products online and fulfill orders.
6-8%
increase in site wide Conversion Rate every month across all channels
10 mill
Organic and Paid Impressions in 2020 alone
$19.64
site wide ROAS for every one dollar spent across all channels
10k
website transactions in 2020