Selective Insurance Group Inc. is primarily a holding company for ten "A" rated customer-focused property and casualty (P&C) insurance companies. Ranked as the 41st largest P&C insurance group in the United States by A.M. Best Co., Selective works with independent agency partners to create and deliver business and personal insurance solutions that best fit their customers' needs. Selective Insurance has built a reputation on truth, integrity, and service with agents and clientele. From 1930 to today, a clear vision and strong commitment to values have been critical to Selective's success. 
Zero Gravity Marketing (ZGM) first began working with Selective Insurance to provide independent agents with marketing packages. Once Selective's own brand needed marketing services, ZGM was the trusted turnkey option. Our digital strategists were a perfect fit for Selective Insurance due to their insurance experience and specialty in organic search engine optimization (SEO) and paid media management. For the top-rated P&C company, Pay-Per-Click (PPC) advertising, SEO, and branding were their primary focus. With help from Zero Gravity Marketing, Selective Insurance received a unique marketing strategy tailored to their brand's needs.
The Challenge
Selective Insurance was looking to increase their brand's awareness of specific businesses and independent agents. Because Selective's services had historically been offered through agents, brand recognition needed improvement. The challenge was to target only particular lists of prospect companies, agents, and customers with our paid media campaigns. This required careful planning and strategizing with partners using platforms such as LiveRamp to coordinate. Our team collaborated to target their desired audiences and improve their overall brand awareness.
Outcome
Zero Gravity Marketing began by outlining the different channels we could utilize to reach Selective Insurance's target audiences. Including various channels within the campaigns, we also broke them down by audience geography and messaging strategy. Our digital marketing team knew that we had to set up a custom Data Studio dashboard to measure our real-time success. Here, impressions, clicks, cost per click (CPC), conversions, and cost per action (CPA) could be collected from each source and summarized by blending the data from all channels. Measurement also included brand recognition surveys on social platforms and continuously A/B test creative efforts.
Selective Insurance wanted to focus on SEO and PPC to generate strong brand awareness amongst their distinct list of prospect businesses, agents, and current customers. We developed a search engine optimization strategy for Selective's website and content to rank higher on Google's search engine results pages (SERPs) to increase visibility. Our SEO strategists were able to increase their year-over-year (YOY) search impressions to over 50%, along with a jump in organic search traffic and rankings. ZGM also cut Selective Insurance's bounce rate down by 8.2% YOY, which displayed an improvement in website performance.
Our PPC team dove into paid media using Google display and programmatic advertising to increase ad impressions and click-through rate (CTR). After ZGM ran paid media campaigns, there was a 115% increase in Selective Insurance branded searches — a primary key performance indicator (KPI) for the campaign! We generated 45 million ad impressions and over 1.1 million website clicks and video views. With over 200 campaigns across seven different ad platforms, there was an additional decrease in the cost per click and cost per thousand impressions (CPM) each month since they began.
On the creative side, our graphic designers updated ad designs regularly to avoid banner blindness for Selective's logo design and branding. They designed graphics that spoke true to their company and stood out to promote their services.
When Selective Insurance asked for our help to improve their brand's marketing, we stepped in to incorporate an SEO, PPC, and creative design strategy. In doing so, Selective Insurance now has an ongoing successful marketing approach to target potential businesses, agents, and current customers with personalized insurance solutions.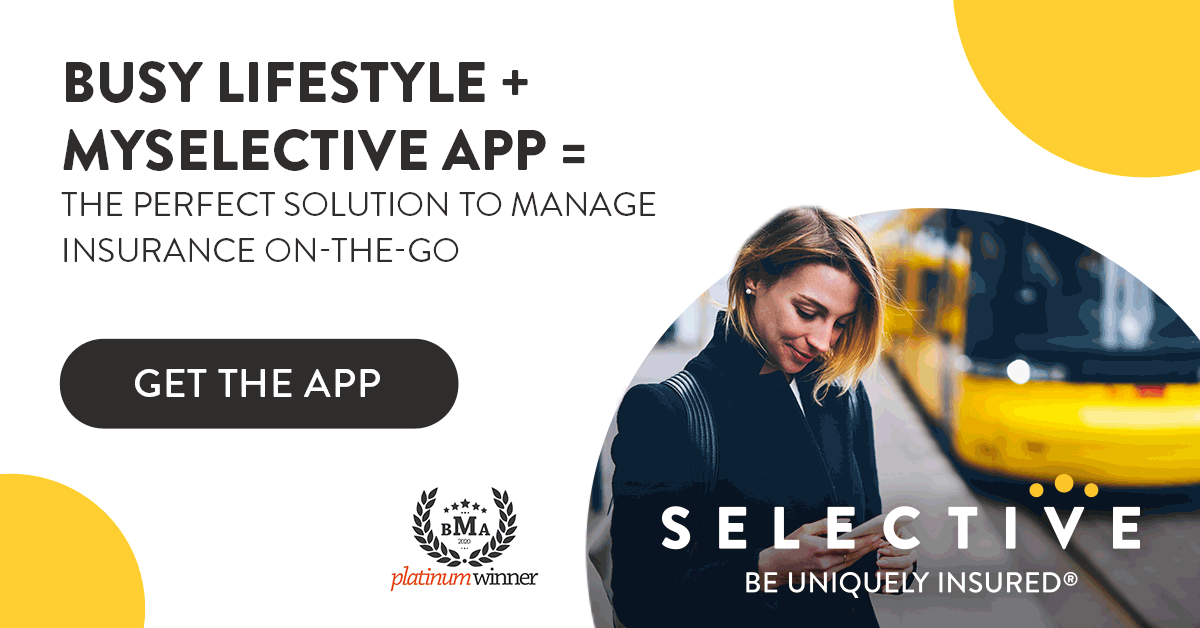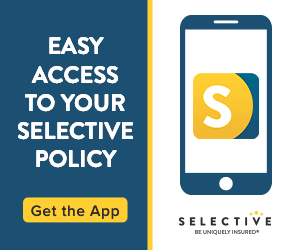 Selective developed an app for customers to manage their account, report claims, get roadside assistance and much more.  Many of Selective's customers don't even know they have insurance through Selective because the insurance is in most cases sold through independent insurance agencies.  As a result, one of the challenges is to get in front of the current customer base and to get them to engage with Selective by downloading their mobile app.
Understanding that the goal was to get customers to download the app and knowing that Selective has contact information for all customers, ZGM's primary approach was to market the app to the customer list, anonymized via LiveRamp to protect Personal Identifiable Information (PII).  Our multi-channel approach included paid media campaigns via Google display, paid social (Facebook, Instagram, LinkedIn, Twitter) and programmatic.  The ads were animated gifs, static banners, videos, responsive display ads and native ads.  In addition to measuring and reporting upon impressions, clicks, video views, engagements, CPMs, CPCs, CPVs our primary goal was to optimize for app downloads.
Mobile App Results
Via our multi-channel approach delivering ads via  Google, Facebook, Instagram, LinkedIn, Twitter and programmatic, as of January 2022, the campaign has achieved over 23 million impressions and over 40 thousand clicks.  The CPM and CPC via programmatic were both under $1.  Other channels such as paid social had higher CPCs and CPMs, but they helped us achieve reach and engagement we would have otherwise not seen.
As of January 2022, over half of customers have downloaded the app.  As we continue to promote downloading the app, for 2022 our goal shifted to also promote app usage and engagement within the app.  This includes promoting key features of the app, such as accessing certificates of insurance, mobile id cards, and increasing payments through the app.
115%
INCREASE IN BRANDED SEARCHES
45
MILLION
AD IMPRESSIONS
1.1
MILLION
WEBSITE CLICKS & VIDEO VIEWS
200
+
CAMPAIGNS ACROSS SEVEN DIFFERENT AD PLATFORMS
ORGANIC SEARCH RESULTS
50%
INCREASE IN SEARCH IMPRESSIONS
8.2%
YOY DECREASE IN BOUNCE RATE
8.5%
INCREASE IN SEARCH TRAFFIC
175
+
PAGE 1 RANKING INCREASE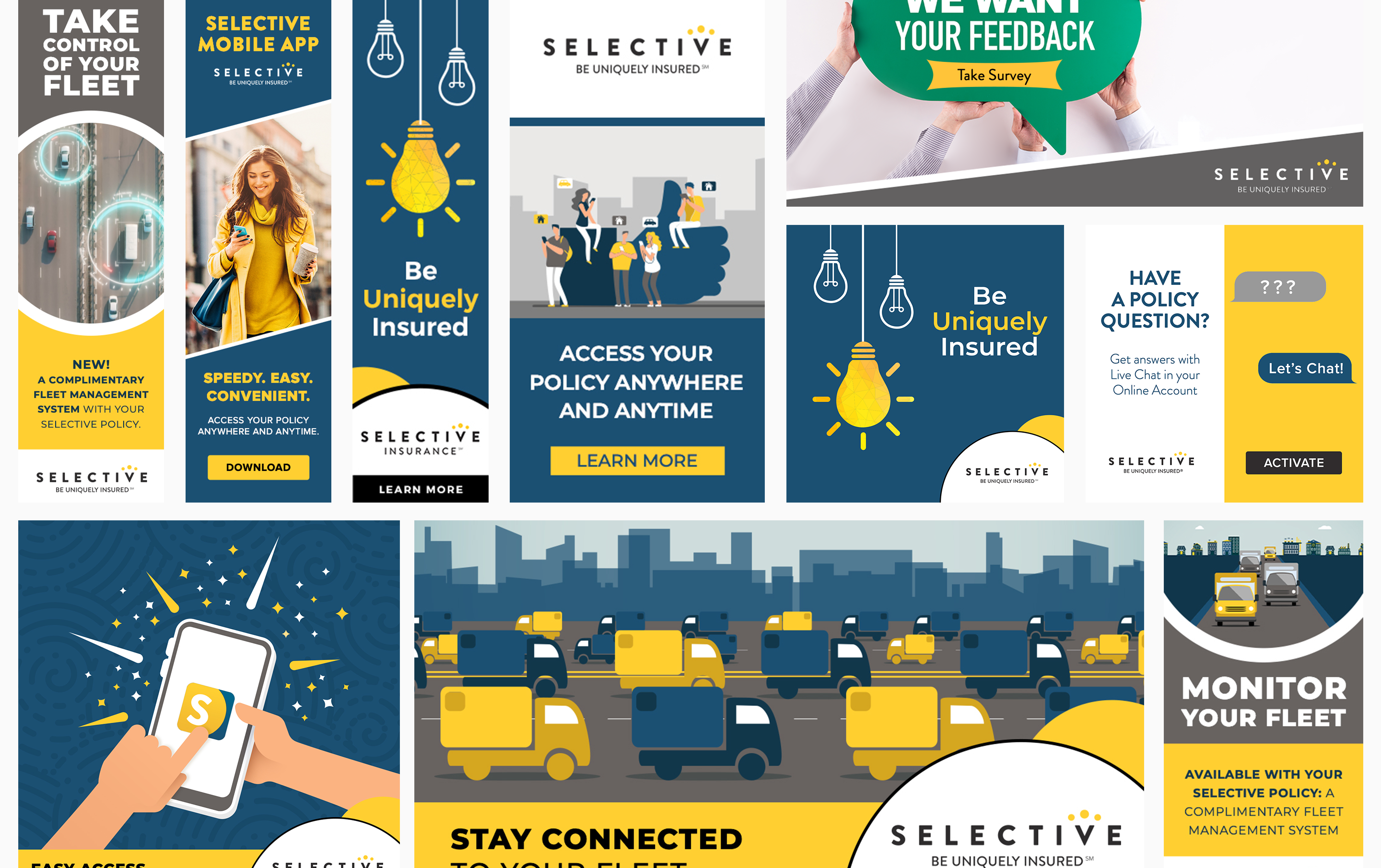 Pay-Per-Click (PPC)
Search Engine Optimization (SEO)
Logo Design & Branding
Mobile App Marketing
ZGM Awards & Recognition