Project Overview
Starion Energy is an independent U.S. electricity, renewable energy, and natural gas supplier, offering solutions to hard-working families, local businesses, and small communities. Starion's mission is to convert their positive energy and knowledge to power people and communities' lives. Their agile working style, resources, and seasoned energy leaders are how they can match their customers' changing lives with easy plans that yield results.
Zero Gravity Marketing (ZGM) began working with Starion Energy to build out a full-funnel marketing strategy. Starion needed to improve their search rankings, increase visibility, and create a more compelling user experience (UX). ZGM jumped on the opportunity to implement our services to reach customers at every stage of the customer journey. We focused on Pay-Per-Click (PPC), search engine optimization (SEO), email marketing, conversion rate optimization, and general strategy to give Starion a well-rounded marketing plan, increase conversions, and create a better brand experience.
The Challenge
Starion Energy was looking to improve its marketing efforts across the board. Their company needed help from ZGM to stand out from the competition and position themselves as the country's top energy supplier. The challenge was creating a full-funnel marketing strategy from the top down to stand up against the big-name retailers. This required close competitor research, careful strategizing, and long-term planning. Our team's strong collaboration skills and experience building brands from the bottom up helped Starion succeed.
Outcome
Zero Gravity Marketing began by outlining which marketing efforts needed to be implemented into their new strategy. Our strategists started with PPC by running search and display ads to meet potential customers at every stage of the purchase funnel. On top of competitive advertising, ZGM created paid social ads on Facebook, Instagram, and LinkedIn. The total number of clicks, impressions, and enrollments increased significantly using creative ads that showcased Starion's unique value propositions (UVP).
We completed keyword research within our SEO strategy that resulted in Starion ranking higher on Google's search engine results pages (SERPs). We also transferred their blog to live on their website, which led to an increase in organic traffic. Additionally, once Starion's SEO became stronger, enrollments started to increase month to month. General strategy efforts included video creation displaying their energy options and state-specific landing pages to drive paid traffic to all parts of the sales funnel. Developing new content provided site visitors with a user-friendly journey across Starion's site to increase conversions. ZGM also created a newsletter to keep customers updated with Starion Energy's rates and special offers.
When Starion's marketing efforts needed a complete revamp, the Zero Gravity Marketing team knew where to start. The supplier went from lacking the strategies necessary to gain traffic and conversions to receiving a full-funnel marketing plan complete with SEO, PPC, paid social, email marketing, CRO, and general strategy. With help from the ZGM team, Starion Energy's marketing efforts now powerfully convey their mission and targets potential customers with relevant ads, content, and more.
PAY-PER-CLICK RESULTS:
812%
user increase
201%
Increased conversion rate by
PAID SOCIAL RESULTS:
1.47
million unique users
2.6 million
total impressions
3.86%
Increased CTR (beating the industry average of 2%)

SEARCH ENGINE OPTIMIZATION:
337%
increase in total ranking keywords
330%
increase in page 1 rankings

76%
increase in search visibility
136
keywords have moved up
32.52%
Improved website exit rate to 32.52% (considered excellent)
CRO Results:
11,427
total page views
27%
Increased conversions by 27%
10,000
Brought in 10,000 unique users, resulting in 8.4% conversion rate
Paid Search Services
ZGM launched search and display ads to reach homeowners at every stage of the purchase funnel. These ads targeted those who recently moved and needed a new energy supplier and people interested in green energy. Search played a key role in meeting our middle-of-the-funnel audience that was already aware of Starion. Our display ads reached users before they knew about the company, building awareness along the way and resulting in a .46% CTR, beating industry standards. As a result, Starion Energy's total impressions increased to 2.6 million, and total clicks increased to 13,200. We were also able to increase their CTR to 3.86% which is above the industry average of 2%, plus the search ads launched by market all beat industry standards.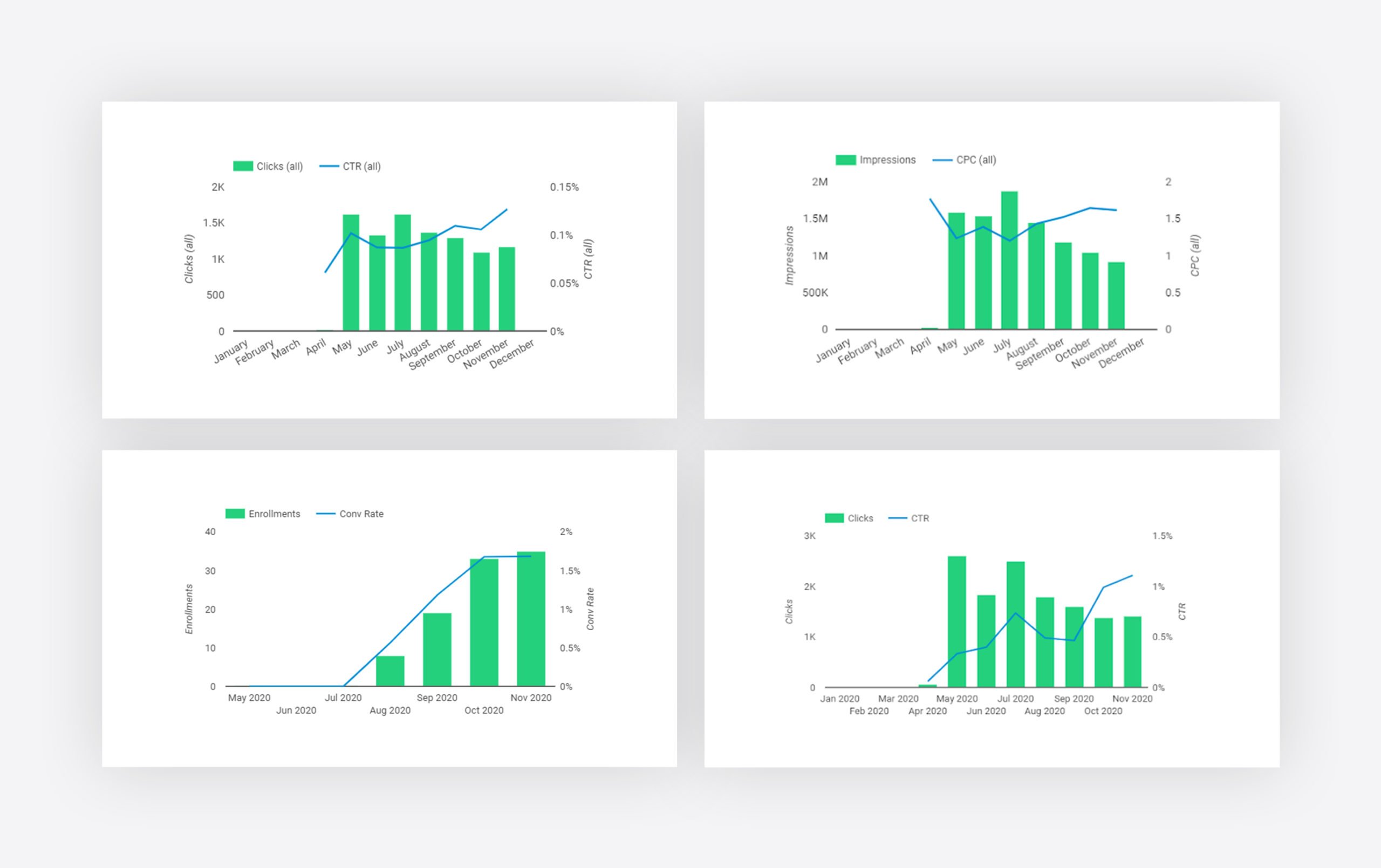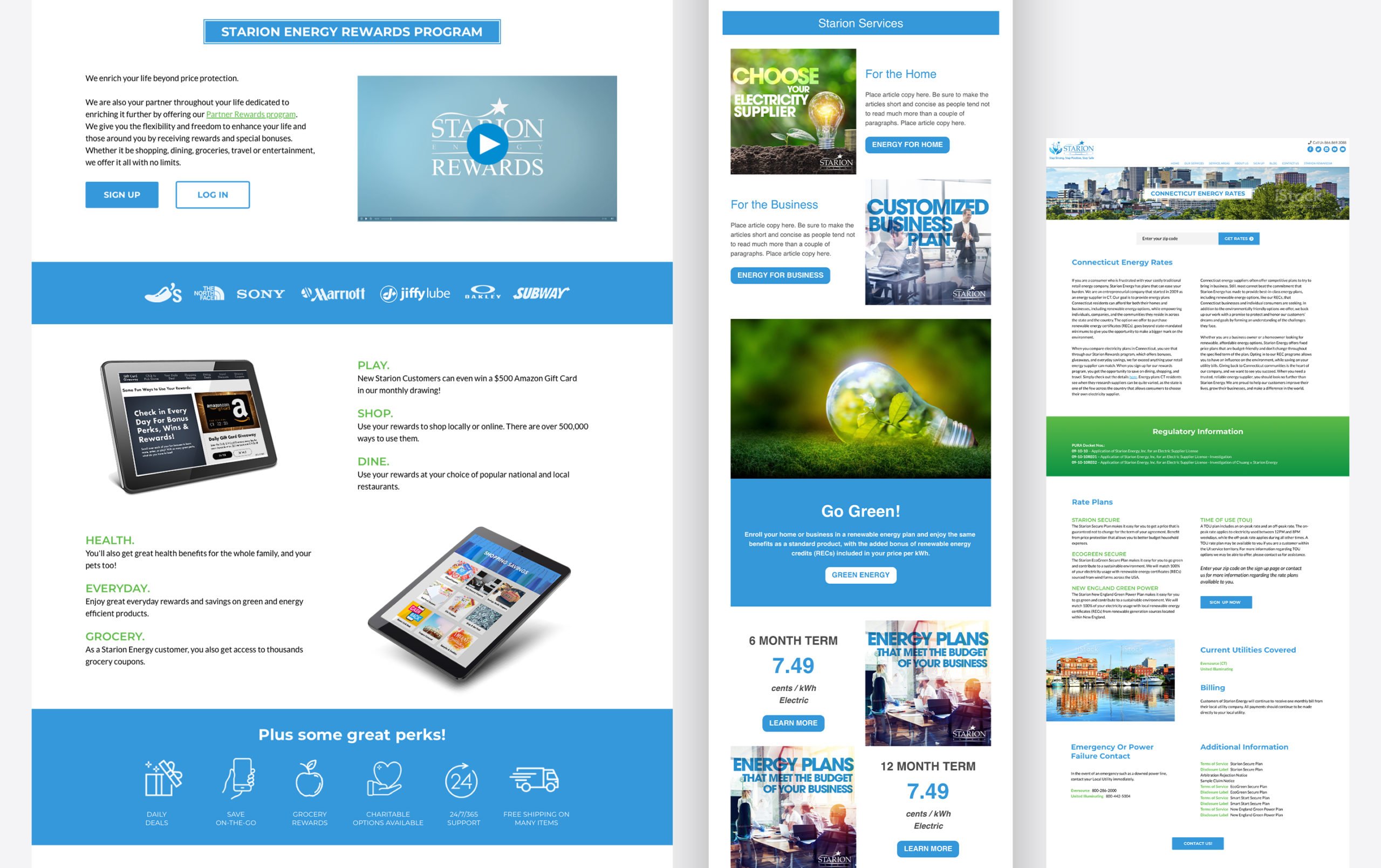 SEO Services
Our SEO strategy played a significant role in improving search visibility. ZGM conducted keyword research, implemented metadata, created new blog content, and more to increase Starion's website traffic. After we completed SEO, there was a 337% increase in total ranking keywords, a 330% increase in page 1 rankings, and a 75% increase in search visibility. We were also able to improve Starions exit rate, getting it 32.52%, which is considered excellent (26% to 40% is considered excellent, 41% to 55% is average).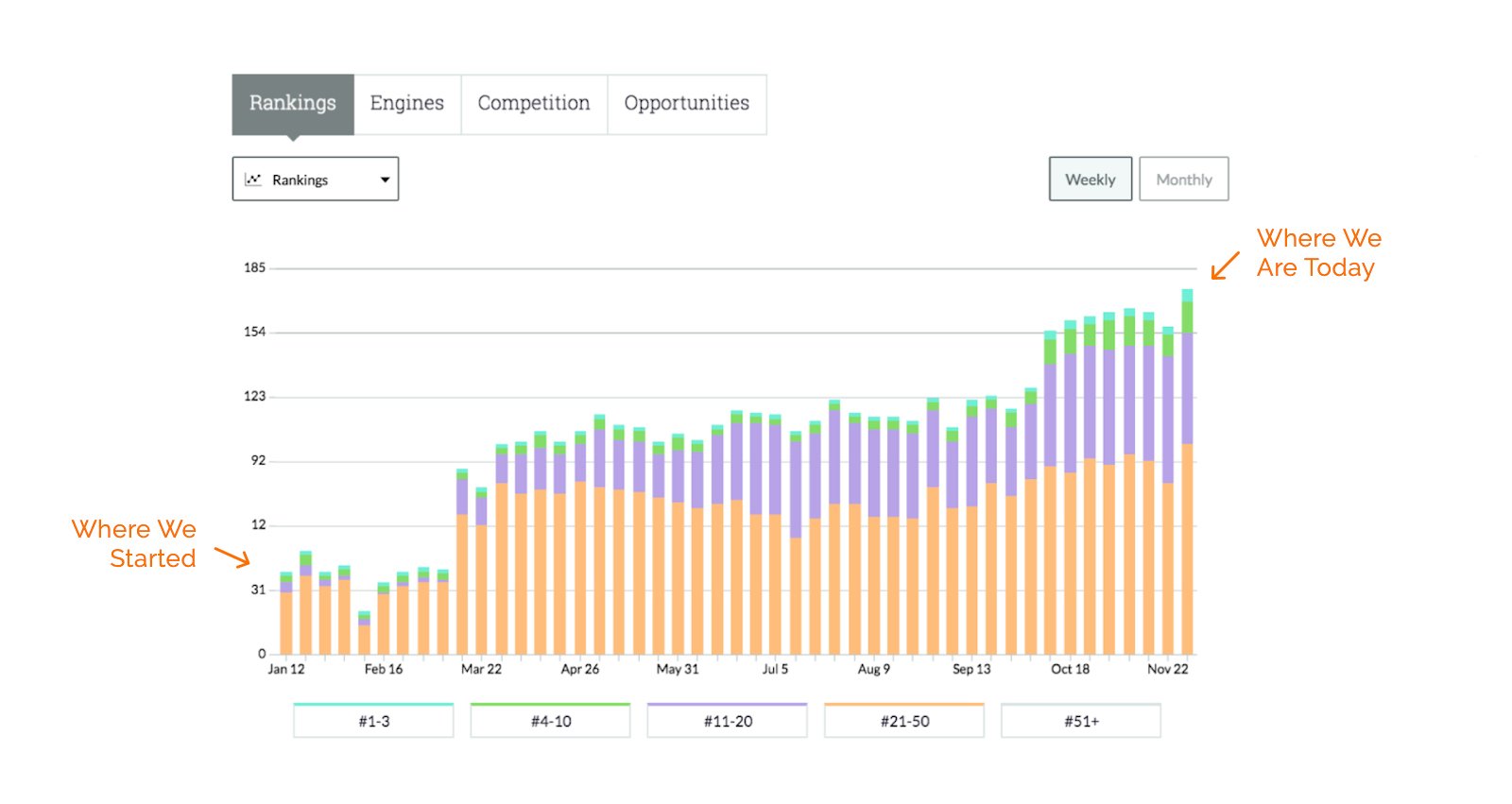 Pay-Per-Click (PPC)
Paid search and social
Search engine optimization (SEO)
Email Marketing
Conversion rate optimization (CRO)

User experience analysis

General strategy

ZGM Awards & Recognition