Thayers Natural Remedies is a skincare brand established in 1847 by Dr. Henry Thayer. What once began with a line of herbal extracts grew to include over 800 products in the form of infusions, syrups, tinctures, and wines. Prominent among Dr. Thayer's elixirs was Witch Hazel Extract, sourced from the flowering plant Witch Hazel. Known for its medicinal prosperities, the Witch Hazel products are available today in alcohol-free toners and astringents, as well as facial mists and body bars. Thayers has been a fixture in medicine cabinets for generations because of their long-standing commitment to creating pure, effective, cruelty-free products.
Zero Gravity Marketing (ZGM) began working with Thayers when seeking a strategic plan to support their digital platforms' promotions. Although a well-established brand, most online sales were being made from their retail partnerships rather than directly through their website. Overall, ZGM kickstarted and developed Thayers' virtual presence through search engine optimization (SEO), Pay-Per-Click (PPC), social media, and email marketing. With help from Zero Gravity Marketing, the Witch Hazel manufacturers could continue producing high-quality products to their loyal customer base while driving traffic through to their website.
The Challenge
The main challenge of creating Thayers' multi-channel, full-funnel marketing plan is that they lacked an online presence. We had to revamp their digital marketing efforts as Thayers felt their current strategy didn't resonate with their target market. They had a strong marketing calendar but did not have the right approach to support their promotions on digital platforms. When we began constructing a strategy for Thayers, there was no particular challenge that was more important than the other. From creating awareness to customer retention, it came down to having ZGM step in with tracking and utilizing analytics and data to understand performance, optimize campaigns, and set goals.
Outcome
We began developing Thayers' full-funnel marketing approach by completing in-depth benchmark reports of key analytics to uncover their keyword rankings, website content and page speed issues, and more. To drive traffic, we began working on SEO to help Thayers rank higher on search engine results pages. ZGM identified 178 keyword phrases relevant to Thayers and tracked them on a national scale. Our team rewrote tags that required additional optimization, added specific descriptions for products, and internally linked to their most important pages using relative anchor text. To promote their online presence, improving site speed was extremely important. We made a list of additional developments on both the back and front end recommended by our developers, including leveraging caching and enabling compression. Through Google My Business (GMB), ZGM ran local inventory ads to help show Thayers' products and details to potential nearby customers.
For PPC, our team of digital strategists created a thorough media plan with objectives that centered around conversion-focused campaigns. ZGM's goal was to increase awareness among specific user segments using lifestyle messaging and speaking to benefits that, in turn, would create loyal, repeat customers. To improve conversion rate optimization (CRO), we wanted to generate repeat site visitors at a low cost per acquisition (CPA). We did this by implementing Google search, display, remarketing, and shopping, YouTube prospecting and remarketing, and evergreen paid social tactics. ZGM took it one step further and looked at Thayers' top-performing audiences by gender and interests to develop a strong paid social strategy.
To finish off the digital revamp, ZGM completed an audit of Thayers' current email account by looking at their top-performing emails. We analyzed the open, click, unsubscribe, and bounce rates, too. From there, we developed a strategic plan to bring Thayers up to industry standards by implementing free shipping banners, gender-targeted content, more products, and imagery within a brand-new email template created by our designers. Our team also created content on social media to reach new and existing audiences and increase the number of site visitors Thayers' received. We separated the skincare brand from the competition with a robust, multi-channel, full-funnel marketing plan. With help from ZGM, the Thayers brand is now successfully driving traffic through to their website resulting in an increase in sales.
30%
Increase In New Users
170%
Increase in the number of transactions
63%
Increase in organic revenue
300%
Growth In year-Over-Year sales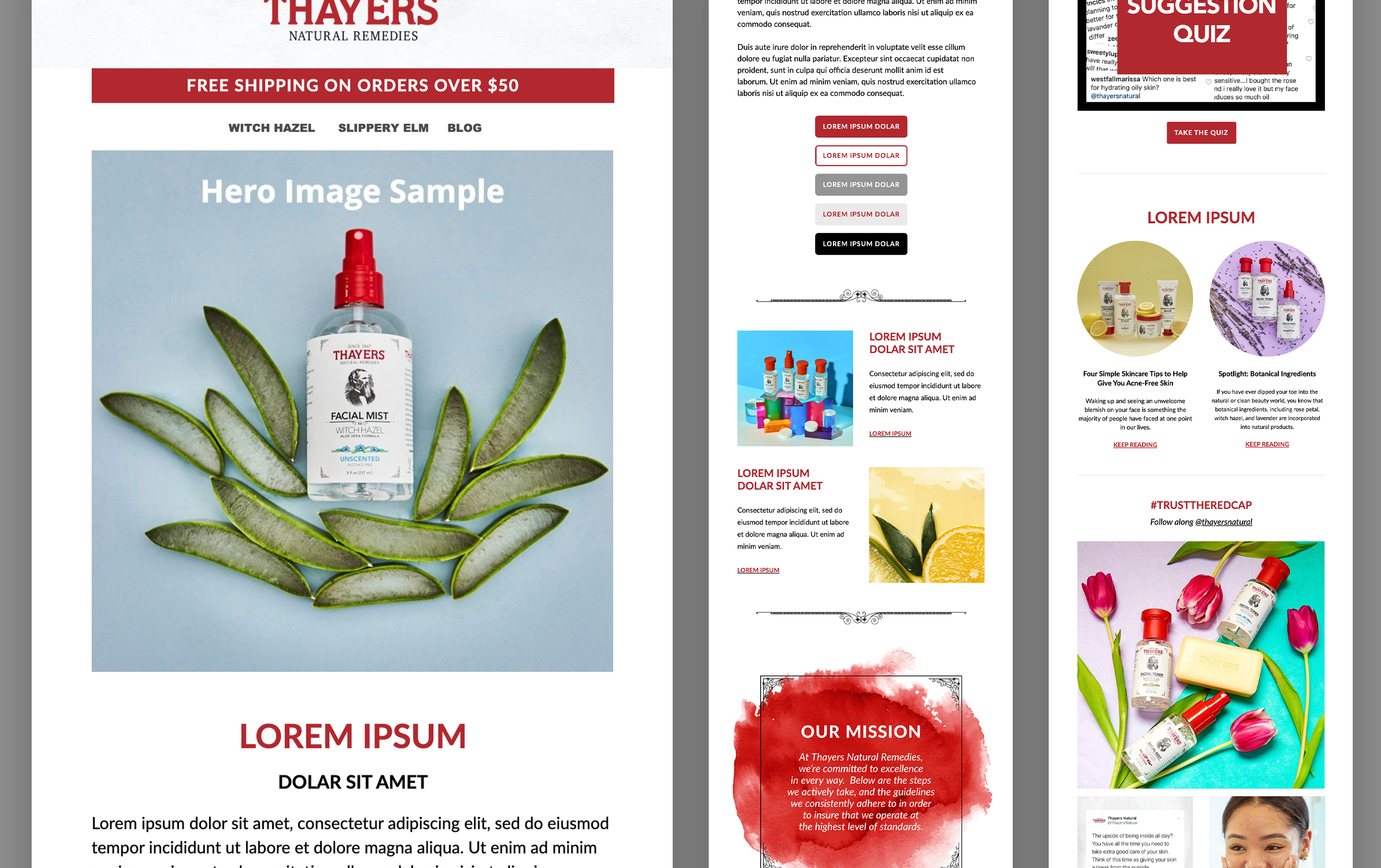 ZGM Awards & Recognition