Project Overview
University of Saint Joseph (USJ) is a private educational institution committed to providing rigorous liberal arts and professional education to diverse students. The Sisters of Mercy of Connecticut established USJ in 1932 as the first college for women in Hartford. As a Catholic institution, USJ emphasizes preparing students to serve and lead others while offering professional studies in sciences and arts.
Over the years, USJ has expanded its programs and facilities to accommodate students of all ages, cultures, religions, and races. USJ offers graduate master's, certificate programs, and professional doctoral degrees and provides full-time and part-time undergraduate programs. It also runs two laboratory schools – the School for Young Children (1936), a nationally-accredited preschool, and the Gengras Center School (1965), a special education program for elementary, middle, and high school students.
Since USJ was initially opened as a college for women, transitioning to co-ed required professional marketing services to retain existing students and attract new ones. The institution came to Zero Gravity Marketing (ZGM) to gain critical insights on current and prospective students to ensure it was ready to become a gender-inclusive campus.
The Challenge
USJ understood that transitioning from single-sex to co-ed can be a sensitive process. This change can affect the institutions' performance and appeal to new and prospective students. While the facility's history and growth indicate that it is established in the education sector, the management felt that the school lacked deep insight into the strategies needed to attract new students. At the same time, they needed information to guide their decisions on becoming a co-ed institution. It was important for USJ to develop a model and brand image to ensure prospective and current students felt rooted in their values.
The primary goal of working with Zero Gravity Marketing was to help USJ achieve its marketing and enrollment goals during a time when the university was moving towards co-ed. In addition, USJ needed to ensure a high user experience for both new and prospective students, despite the potential changes associated with the transition.
Outcome
USJ's main goals were increasing enrollment through marketing and developing an improved operational model. Data was critical in strategizing how to achieve these goals. ZGM created a strategic foundation for USJ's 2017-2018 school year through an objective internal analysis and market research. This specific period was critical for USJ and its enrollment goal since it followed the vote to transition to a co-ed setup.
After the market research and analysis, ZGM provided recommendations for achieving high-level marketing goals. The intention was to develop and implement strategic, data-driven marketing and communication to raise positive awareness for USJ, increase the number of quality applicants, and retain existing students.
ZGM's marketing experts prioritized enrollment, which was the major KPI for the project. The primary idea was that redesigning the website would redefine student experiences and increase engagement. This outcome would increase USJ's appeal to prospective students and enhance its brand image for long-term results.
Results
Since working with Zero Gravity Marketing, USJ has seen improved and successful enrollment in part to the redesigned and easily navigable website, in addition to the new operation model that was developed. The enrollment process itself has been streamlined and the transition to COED was seamless and easy. The staff has also expressed how much more informed and educated they feel, and that they are more comfortable being go-to resources for students when needed. As a result, USJ has been able to raise positive awareness and improve its brand image as a whole.
Web Development
ZGM's team used the data gathered from the research for new web development. The programmers and designers created wireframes to show how users interact with core pages. Through the user experience analysis, ZGM's professionals redesigned USJ's homepage, conducted SEO-related web updates, updated the site graphics, and facilitated the migration to the new website. In addition, the team conducted an ADA audit to ensure that the university's new website is easily accessible to the current and incoming students and staff.
Creative Design
USJ offers multiple programs for part-time and full-time undergraduate students and graduate and international students. Thus, it was critical to have a web design that integrated different color palettes and design elements to build a unique brand. The creative process began by identifying the core webpages and components for USJ and analyzing the competitive pages of other institutions to identify differentiated aspects. This analysis helped to develop a creative design that is student-centered.
SEO Optimization
ZGM's SEO team noticed the need to improve USJ's online presence and visibility. We launched the EO-guided project that focused on optimizing tags, including meta descriptions, H1s, Title Tags, and Alt Tags, while also providing a redirect map for all 404 pages. Other critical SEO aspects considered were optimal page speed and site performance – this involved evaluating web image compression, CSS and JavaScript files, hotlinking, widgets and plugins, and hosting.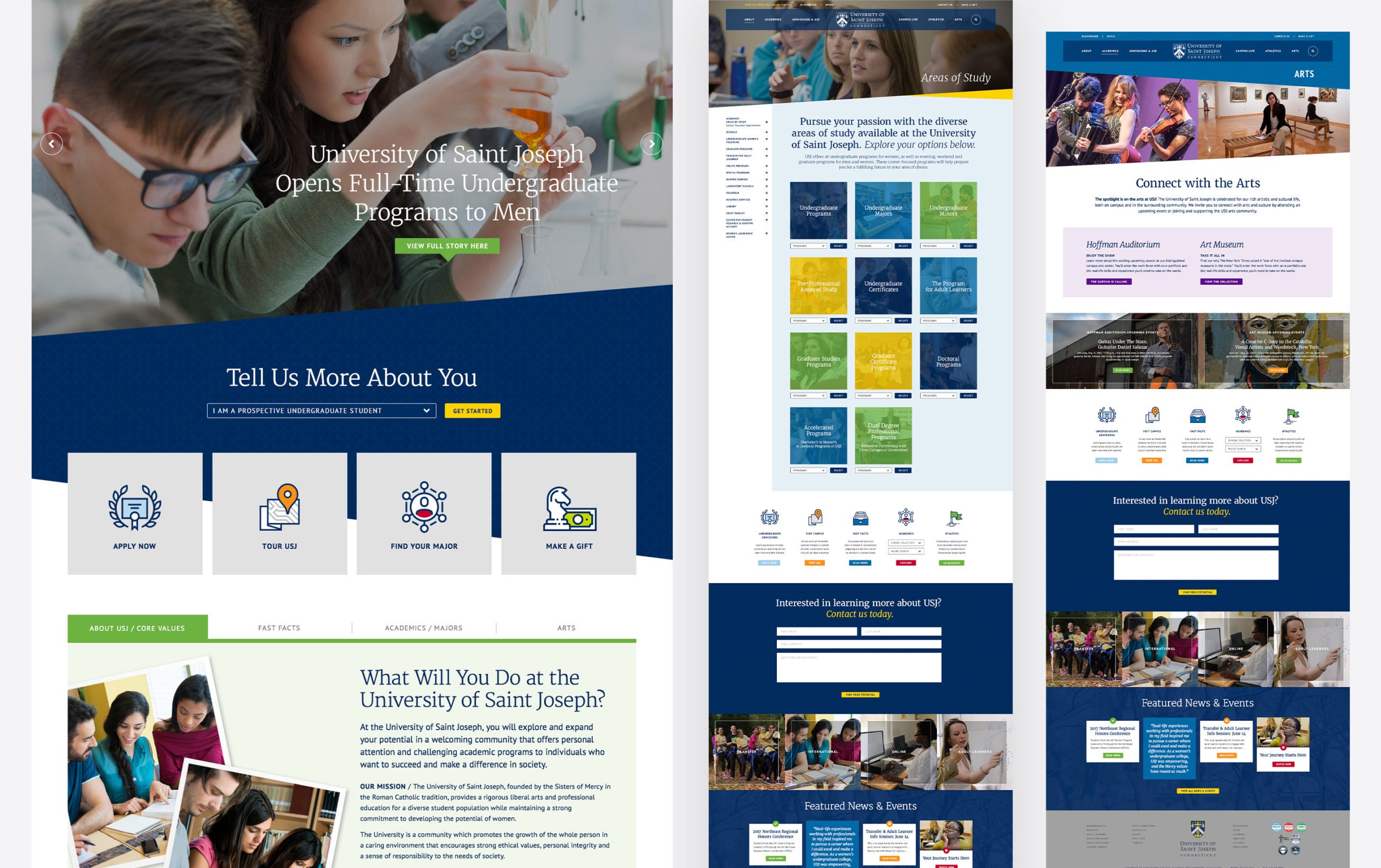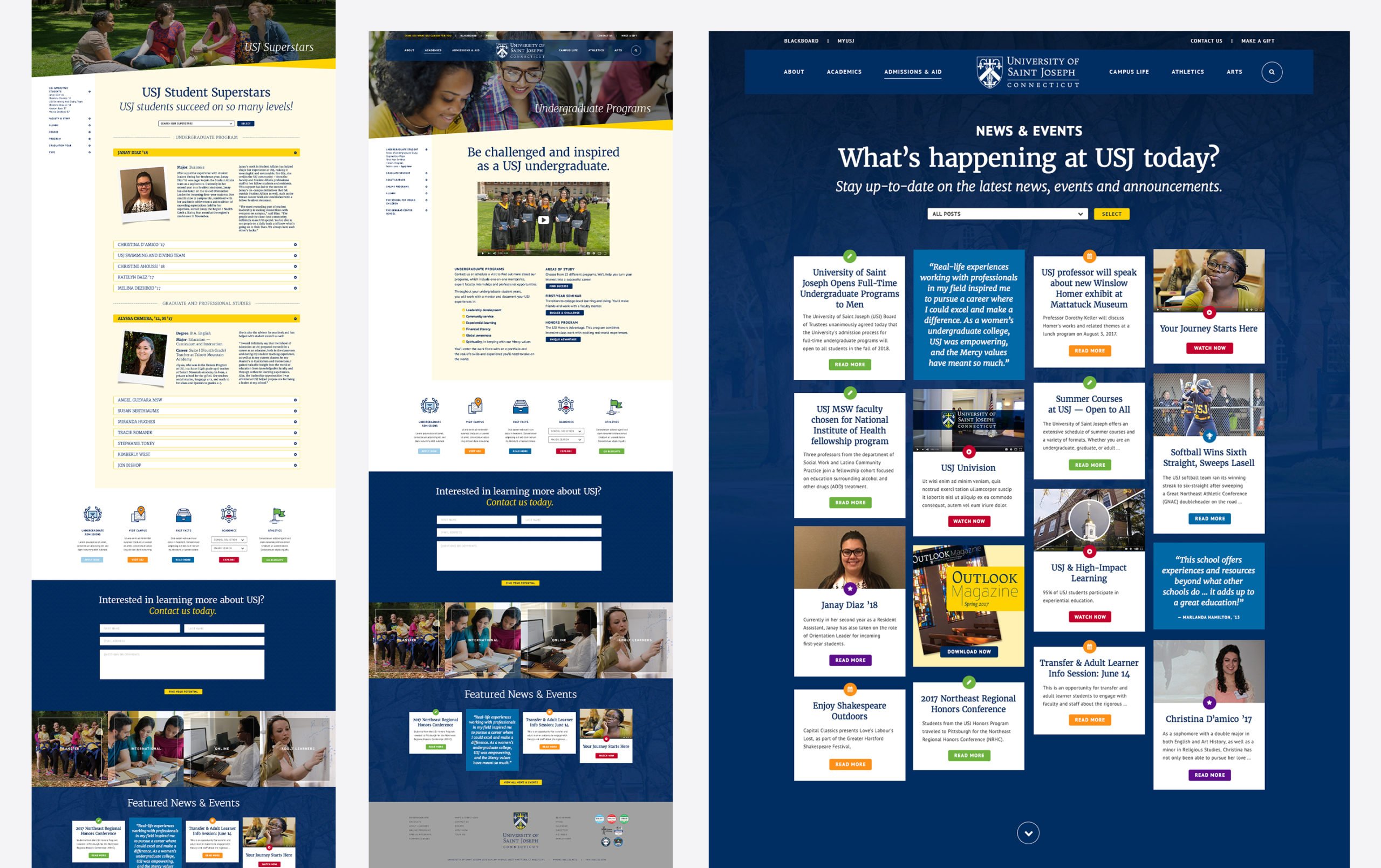 Creative Design
Web Development and Site Migration
User Experience Audit
ADA Audit
Search Engine Optimization

ZGM Awards & Recognition