Receiving a negative review on your Google Business Profile (formerly Google My Business) can be both frustrating and damaging. After all, it's what people have to say about your brand that can shape your image and reputation. One single bad review could deter many potential customers from buying a product from you or using your services. While it is natural that businesses receive both positive and negative reviews, there is some good news for those who hate to see the negative.
If a review violates Google's guidelines, there is a way to address them and a process you can follow to have it removed. This blog will walk you through the steps to identify, report, and remove inappropriate Google reviews and help you maintain a positive online presence.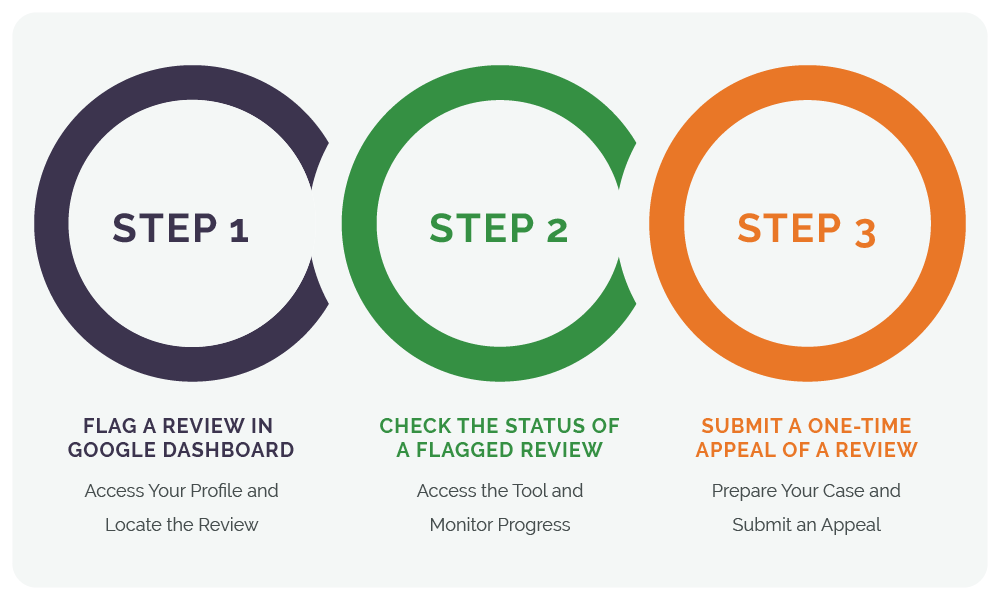 How to Identify and Report Bad Google Reviews
Consistently monitoring and managing your Google Business Profile reviews are essential to maintain the integrity of your brand. Not all negative reviews need to be removed, however, if you come across a review that is false, misleading, or violates Google's policies, there are steps you can take to get it removed. Here's a step-by-step process to help you navigate this:
Step 1: Flag a Review in Google Dashboard
Access Your Profile: Begin by logging into your Google Business Profile (GMB).
Locate the Review: Scroll through your reviews to find the one you believe violates Google's guidelines.
Locate the Review: Click on the three vertical dots adjacent to the review. From the dropdown menu, select 'Flag as inappropriate.' By doing this, you're alerting Google to inspect the review for potential policy violations.
Step 2: Check the Status of a Flagged Review in the Reviews Management Tool
After flagging the reviews you want removed, keeping an eye on their status is essential. Google's Reviews Management Tool is a good resource for this:
Access the Tool: Log into the Reviews Management Tool using your Google credentials.
Monitor Progress: Here, you can track the status of your flagged review, noting any updates on Google's assessment and subsequent actions.
Step 3: Submit a One-Time Appeal of a Review
It's possible that even after flagging a poor or untrue review, Google might not take action. In such cases:
Prepare Your Case: Gather all relevant evidence that showcases the review's violation of Google's policies.
Submit an Appeal: Clearly articulate your concerns and provide the evidence. Request the removal of the review based on your findings.
Reach Out to Google Support
If your review is still not removed following the appeal, consider contacting Google Support for further assistance. They can provide additional insights and support in resolving the issue.
Negative GMB Review FAQ:
Can you delete reviews on GMB?
You cannot delete reviews directly; however, you can report and appeal reviews that violate Google's guidelines for possible removal.
Does removing Business Profile reviews hurt my listing?
Removing inappropriate or false reviews can improve the credibility of your listing and protect your brand reputation.
Why can't I remove a review?
Reviews can only be removed by Google if they are found to violate Google's review policies. Genuine negative feedback typically cannot be removed.
Safeguard Your Online Brand Reputation!
In today's competitive environment, negative reviews can have a negative impact on your brand image. However, by proactively managing your Google Business Profile and addressing inappropriate reviews, you can maintain a positive and credible online presence. If you need assistance in optimizing your local SEO and Google Business Profile strategy, that's where Zero Gravity Marketing can help.
Explore our comprehensive SEO solutions and Google Business Profile management services to enhance your online visibility and brand reputation.