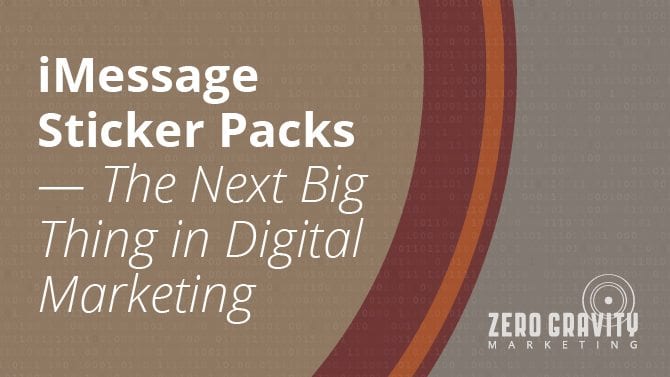 It is estimated that by next year, more than two billion people will be using mobile messaging apps. And within those apps, about six billion stickers will be sent every single day. The people have spoken, and they love the new sticker trend. Not only do stickers make it much more fun to send text messages, but they are easier to use than emojis, customizable, and much more versatile.
What Are Sticker Packs?
In short, iMessage sticker packs are a type of iOS app that allows users to easily send stickers within a text message. They can be instantly inserted into a conversation from the scroll bar beneath the message screen, and they can also be placed on top of photos, other stickers, and conversation bubbles. Brands can create sticker packs that integrate their brand with fun images for users to send to their friends to spruce up standard text messages.
Benefits of Sticker Packs for Your Digital Marketing Strategy
Much more than just fun and games, sticker packs are a valuable marketing tool that can provide your brand with many benefits:
Increase Brand Awareness – When your current users share one of your stickers with a friend, they are exposing this new person to your brand.
Drive Traffic to Your App – If you build stickers to coordinate with your app, you can help increase the amount of downloads you receive. The stickers can also help bring people back to your app if they haven't visited for a while.
Get Traffic to Your Blog – Announce your new sticker pack through an email blast and on social media and encourage readers to check out more details on your blog.
Keep Users Informed – You can easily let your users know if you have new offerings or promos by creating sticker packs that put them on display.
Engage Your Users – When people want to send a sticker, they spend an average of 3.5 minutes per session trying to find the perfect one. They will have fun selecting the one that fits the conversation, and they will remember that you are the brand that provided them with this entertainment.
Portray Your Message – Sticker packs are a great Digital Marketing tool because they are personalized and let you really show off what makes your brand great. Unlike the emoji keyboards that some brands used, there are no limits to what your stickers look like—you can even use photographs.
Earn Revenue – If you want to take your stickers to a whole new level and have them generate revenue on their own, we can also integrate your sticker packs into a full iMessage App that includes a search bar, in-app purchases, and subscriptions. NOTE: This is completely optional and is not required to achieve all of the other aforementioned benefits.
The Future of Sticker Packs
As of now, the future of sticker packs is unknown. They are brand new on the digital marketing scene, but we have a feeling they are going to be a hot new trend in a short amount of time. While they may be new, we do know the few snippets of data we have on them prove that they are well worth the investment. Take a look at two sticker packs and their corresponding analytics:
Dad Jokes Sticker Pack – It has received 760 downloads, and almost 20,000 impressions in the App Store in two months. It is also ranked as one of the Top 100 Sticker Apps in Canada. Download available in Canada only.
Tic Tac Toe Sticker Pack – This one has 2,559 downloads. Over the past two months it has received nearly 270,000 impressions in the App Store. Download available in Canada only.
How We Can Bring Your Sticker Packs to Life
As your cutting edge digital marketing firm, we can help you create your own sticker packs to put up on the App Store. Here is a look at the services we offer in regards to sticker packs:
Design the Stickers – In this phase we will work with you to create a sticker pack that matches your brand's voice and coordinates with your current marketing mission. The stickers will be alluring, entertaining, and shareable, and they will look amazing on the small screen. This is the most time-consuming part of the process.
Develop the iMessage Sticker Pack App – Once the design part is complete, we will make the actual app that needs to be submitted to iTunes.
Submit to iTunes App Store – We will send the sticker pack to iTunes and wait for it to be accepted.
Maintain the Sticker Pack – We will make sure the app works flawlessly on the new versions of iOS on both iPhones and iPads.
Optimize for the App Store – This is the final step to get your sticker pack found. Yes, you can send out email blasts and spread the word on social media, but if you can effectively optimize the listing of your sticker pack within the App Store, you can garner a whole new audience. There are many ways to optimize your sticker pack, but the main factors include keyword research and keyword integration into the title and description. The research phase is paramount to naming your sticker pack, because if you change the title after the fact, it can be hard for people to find your sticker pack via word of mouth.
If you want to stay ahead of the curve and add an exciting new marketing trend to your repertoire, then sticker packs are the way to go. We can work with you to create the perfect stickers that represent your brand, have a wide appeal, and help you get noticed. To learn more about how our digital marketing team can help make your sticker packs the star of text messaging, contact us now.