As technology continues to advance, digital marketing has quickly become an invaluable resource in the business world. No longer confined to print advertising or a local presence, digital marketing has enabled businesses to open up their outreach and target consumers on a global scale.
Despite its unparalleled success, it can take time for a successful digital marketing strategy to come to fruition – no business ever struck gold from one email, tweet, or Facebook post. It is only when a strategic and concerted effort is employed that we begin to recognize the power and influence that a good digital marketing campaign can wield. Let's explore why it's essential to take a long-term approach when engaging in digital marketing and why the end results are more likely to match your brand's objectives.
What is a Digital Marketing Strategy?
There are a lot of poor marketing strategies out there, so it's important to understand your company's goals as you set out to make big things happen for your brand.
A digital marketing strategy is a comprehensive plan that outlines how your business will use digital channels to achieve your marketing goals. This plan takes into account the unique characteristics of the business, its targeted audience, and the competitive landscape, thereby providing a roadmap for how your digital marketing tactics will be executed to achieve the desired outcomes. This means you factor in: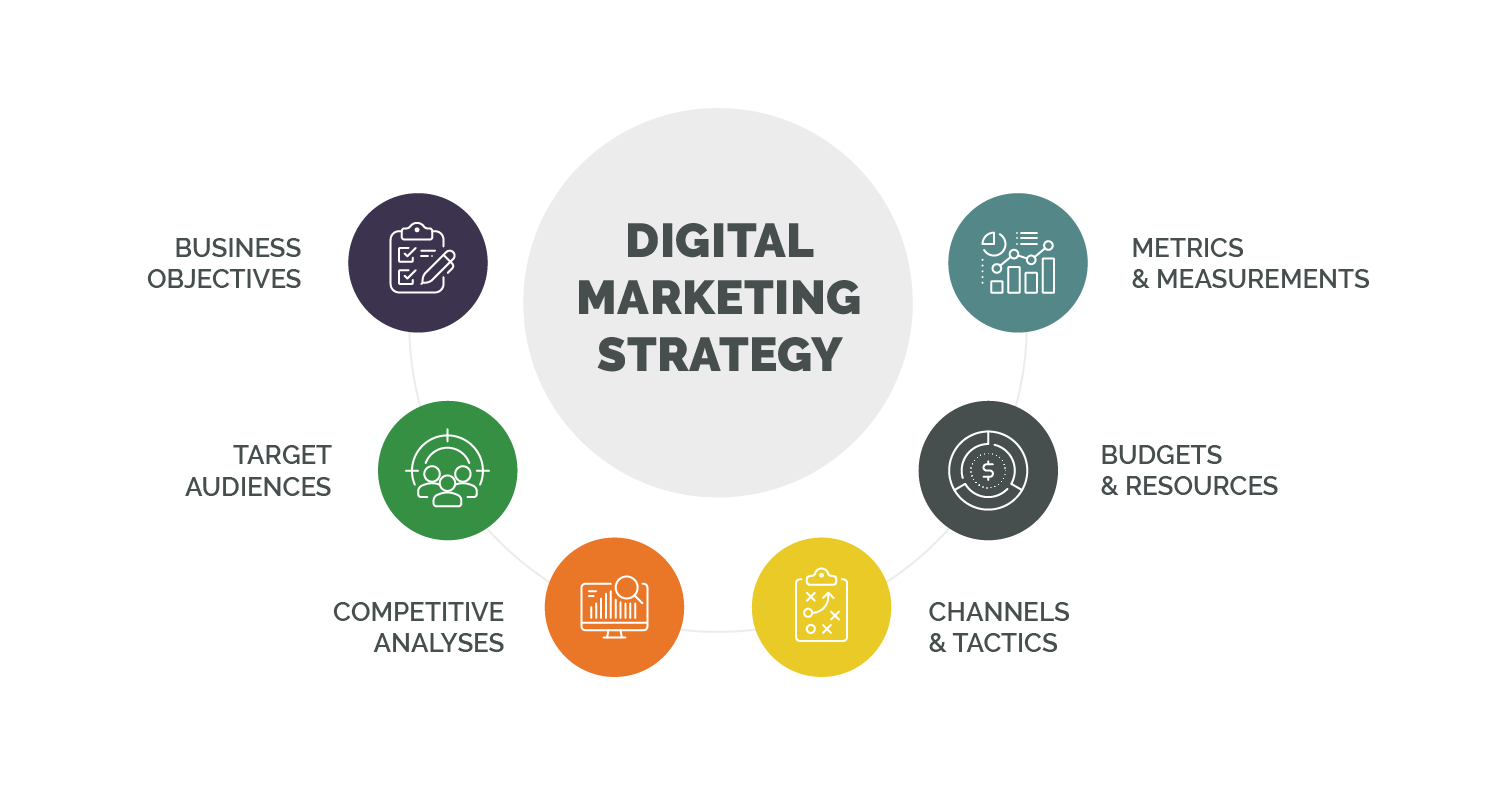 Business objectives
Target audiences
Competitive analyses
Channels and tactics
Budgets and resources
Metrics and measurements
Why Do Digital Marketing Strategies Fail?
Since digital marketing requires a long-term strategy, it's important to understand why a lot of companies fail with their efforts. Often, businesses think everything's going to change overnight, but that's rarely (if ever!) the case. Instead, you need to work on developing a marketing strategy that'll go the distance.
Here are a few reasons digital marketing strategies have been known to fail:
Lack of Clear Goals and Objectives
Without clear goals and objectives, it's difficult to measure the success of a digital marketing strategy. It's important to establish specific, measurable, and achievable goals that align with your overall business objectives.
Failure to Understand the Target Audience
A digital marketing strategy is only effective if it's targeted toward the right audience. Without a clear understanding of the target audience, your business may end up wasting resources on campaigns that don't resonate with your intended audience.
Poor Execution
Even with a well-crafted digital marketing strategy, you need to think about the short term vs. the long term. Poor execution can cause campaigns to fall short. This might mean you've distributed less-than-ideal ad copy, low-quality graphics or videos, or simply ineffectually targeted your recipients.
Lack of Budget or Resources
Digital marketing requires investments of both time and money. Without adequate resources, your business may be unable to execute its digital marketing strategy effectively.
Failure to Adapt to Changes in the Digital Landscape
If you're making a digital marketing investment, it's imperative that you understand the digital landscape is constantly evolving — with new platforms, technologies, and algorithms emerging all the time. A failure to adapt to these changes can cause your digital marketing strategies to become outdated and ineffective pretty quickly.
Lack of Tracking and Analysis
Without proper tracking and analysis, it's difficult to measure the effectiveness of a digital marketing strategy. You need to be able to establish proper key performance indicators (KPIs) and regularly track and analyze data to identify areas for improvement if you truly want to see your efforts succeed.
Inconsistent or Infrequent Communication
In order to maintain engagement and build trust with your audience, your company needs to communicate regularly through various digital channels. Failure to do so means you're talking to your audience infrequently or inconsistently — both of which can cause your digital marketing strategies to fail.
Running the Long Game
Online marketing is a long-term game. Unlike traditional advertising methods like billboards and television commercials, digital marketing requires consistent effort and ongoing optimization to achieve success. This is because the digital landscape is constantly evolving, adding new platforms, changing algorithms, and upping technologies all the time, like the new ChatGPT wave.
A big reason why there are no quick wins in digital marketing is that it takes time to build trust and credibility with your target audience. Consumers are constantly bombarded with marketing messages every day, and they've become increasingly skeptical of brands that make grand promises without delivering on them. To build trust, you need to consistently provide value to your audience over time.
Also, bear in mind that it takes time to gather data and insights about your audience. In order to create effective marketing campaigns, you need to understand who your target audience is, what their pain points are, and what motivates them to take action. This requires ongoing research and analysis, as well as continuous testing and optimization of your marketing campaigns.
One more note: digital marketing is highly competitive. With so many brands vying for attention online, it can be tough to position yourself as a leader in your industry. You have the create unique and compelling content that resonates with your audience, and you need to be willing to experiment with different tactics and strategies to find what works best for your unique brand.
Work With ZGM!
If you're looking to develop a successful digital marketing strategy that can stand the test of time, Zero Gravity Marketing can help. Our full-service digital marketing agency specializes in helping businesses develop and execute effective digital marketing campaigns. Schedule a time to talk to our pros today!