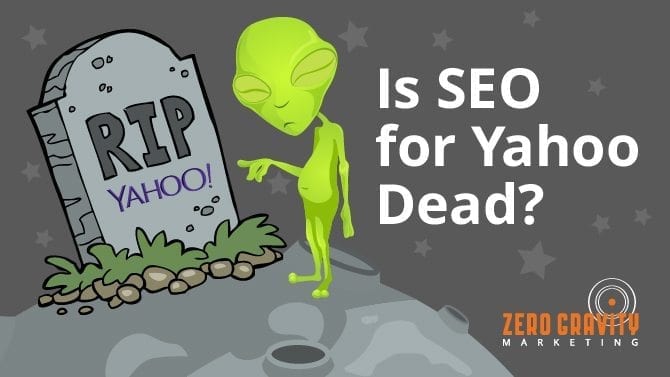 With all the gossip out there about Yahoo's possible last days we need to separate the truth from the fiction. Armed with the facts, we can decide how to adapt any search marketing strategies. How will Yahoo's demise impact SEO and digital marketing? Read on to understand more about the status of Yahoo and how changes can affect your marketing today.
A Changing of the Guards
Yahoo has existed for over 20 years and gave a smattering of weather, news, a "browse tree" search engine and email. It has gone through numerous CEOs with Melissa Mayer being the latest. CEO Melissa Mayer, supports the definition of Yahoo as: "a guide focused on informing, connecting, and entertaining our users."
Mayer has the pedigree (from an impressive track record at Google) to have infused a new strategy into Yahoo but it appears that it either hasn't happened or failed to take root.
Yahoo may receive offers from Google or an investment consortium. As of yet, there is no date or official announcement. Rather, we are all waiting for the ball to drop and for the pieces to be broken up and passed about. America Online and Yahoo may be bought out by Verizon, according to a recent article from the Wall Street Journal. Other firms have failed to make an offer and Verizon, along with a few other companies are moving up the next level. There is no final handshake as of this time. However, it may be wise to plan ahead.
What Can You Do About Yahoo Ending?
Considering that less than 3% of searches are completed through Yahoo, the efforts of SEO for Yahoo shouldn't have been a priority in your digital marketing strategy. Yahoo SEO may not be the best target for your efforts and with the multiple channels currently available, with paid and organic search options your budget may be more meaningfully spent elsewhere. Change is nothing new in the online search marketing game and successful marketers and business owners need to move quickly and adapt.
Do You Need Help Revising Your Marketing Strategy?
Results-driven Zero Gravity Marketing is a full service marketing agency specializing in SEO, PPC, responsive web design, social media strategy, and content marketing. Get the insights, tools, SEO-friendly content and design changes needed to stay competitive and boost your results in search queries. Contact Zero Gravity Marketing today learn more about adapting your SEO for Yahoo and absorb any impact to rankings.