One of the few things that's certain in life is change, and here's a big one for any business using Google Analytics: Starting July 1, 2023, Google is discontinuing Universal Analytics (UA), aka Google Analytics 3, and is replacing it with Google Analytics 4 (GA4). While both come from Google, GA4 is very different from UA. You want to be ready for the change and avoid any hiccups from your site. To ensure you put your best foot forward, we've created this step-by-step GA4 checklist to help you through the transition.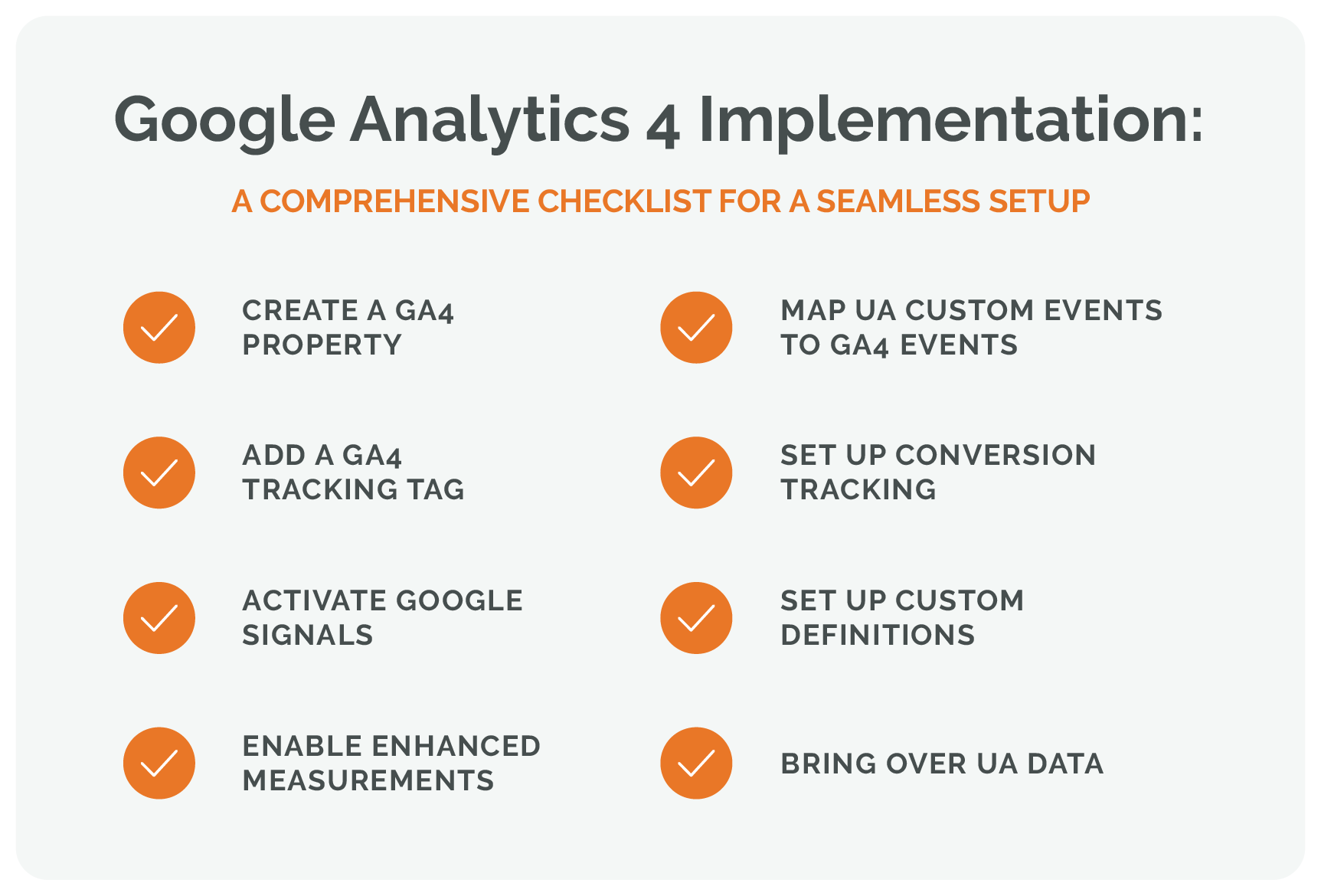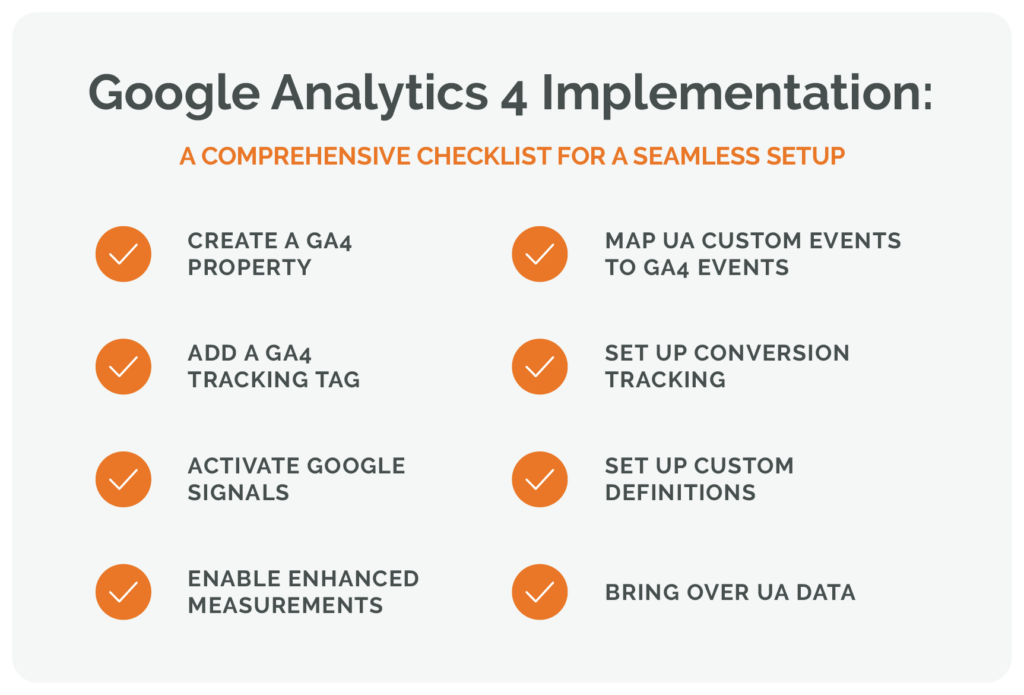 Create a GA4 Property
The first thing to do when transitioning from UA to GA4 is to create a GA4 property. You can do this in one of three ways. You can upgrade from UA using the Setup Assistant. Alternatively, you can create a new property in your existing analytics account by pasting in the gtag code provided by Google. Another option is to use Tag Manager to upgrade your account to GA4.
Add a GA4 Tracking Tag
Next, you'll want to add a GA4 tracking tag. Ideally, you'll use Google Tag Manager to do this. Copy your property's tracking ID, paste it into the Measurement ID field, and give the tag a name.
Activate Google Signals
Head to Data Settings, then Data Collection, to turn on Google Signals. Google Signals lets you collect important information about users, such as age and gender. It gives you a way to personalize ads. Just remember to get user consent before you start tracking users.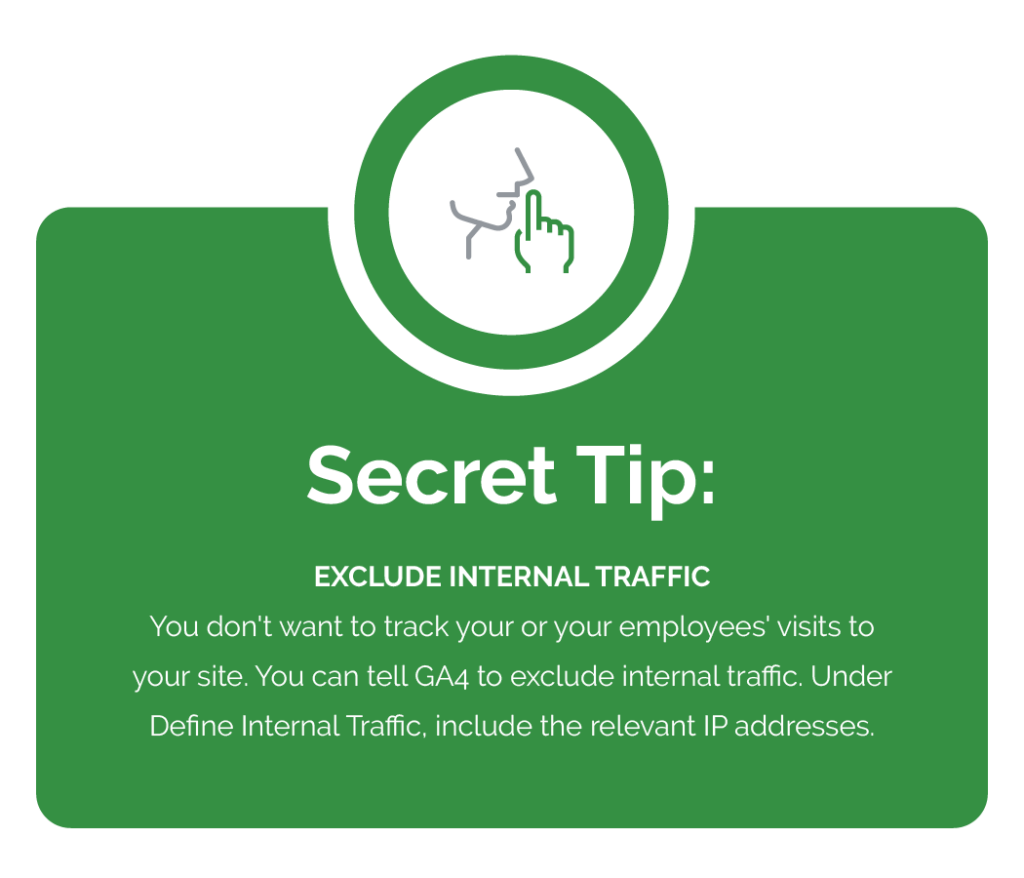 Enable Enhanced Measurements
Google can automatically collect data on enhanced behaviors, such as video views or downloads, but you have to tell it to do so. Head to the Admin section, click on Data Streams, then GA4 Data Stream. Navigate to the Enhanced Measurement section, then click on the gear. You'll see the six events that are automatically tracked. Add additional events to the list based on your goals.
Set Up Integrations
Now it's time to integrate GA4 with other properties, such as Google Ads, Search Console, and BigQuery. Once the switch to GA4 happens, your old UA data will only be available for six months. BigQuery will let you access that data for longer.
Integrating your account with Google Ads, BigQuery, and Search Console involves several extra steps but will be worthwhile in the long run.
Map UA Custom Events to GA4 Events
If you had custom events set up in UA, you'll want to convert them to GA4. You'll essentially need to recreate the events in GA to do that. Head over to the Recommended/Custom Events section in the Admin panel. From there, create and define the events you want to track, such as email signups.
Set Up Conversion Tracking
In GA4, every interaction is an event. You can tell GA4 to treat some of those events as conversions. For example, if someone signs up for your email list or newsletter, you can tell GA4 to treat that as a conversion.
Set Up Custom Definitions
Now it's time to create custom definitions. You'll need these to add metrics and dimensions to custom events. Examples include File Name, Site Search Terms, and Link URL.
Checklist Once You Have the Essentials
You have the basic GA4 setup finished. Now it's time to take things further and make the most of the GA4.
Set up eCommerce tracking: You don't have to worry about this step if you don't have an online store. But if you do operate a store, you must get the eCommerce tracking up. Luckily, this is pretty streamlined if you use one of the big eCommerce platforms like Shopify or BigCommerce.
Setup Cross-Domain Tracking: You may also need to set up cross-domain tracking if you have multiple domains within the same GA4 property.
Custom additional and exploration reports: Depending on your goals, you may need additional reports that aren't part of the basic GA4 package. For example, you may need a landing page report.
Set up predictive metrics in GA4: Predictive metrics give you insight into the potential future behavior of your users. You need to configure specific events, such as purchase events, before you can use predictive metrics.
Set up content groupings: Depending on the size of your website, you may need content groupings to keep everything organized and simplified.
GA4 FAQ
Still have questions about Google Analytics 4 vs. Universal Analytics or GA4 setup? Here are some answers to commonly asked questions.
How do I migrate to GA4?
The easiest way to migrate to GA4 is to use the GA4 setup assistant. A digital marketing and SEO agency can also help guide you through the migration process.
How do I upgrade to GA4?
To use GA4 with UA concurrently before the phase-out in July 2023, use the GA4 setup wizard in your Google Analytics account. If you're unsure how to do it, a digital marketing agency can assist.
What's the difference between UA and GA4?
UA and GA4 differ in the way they collect and use data. GA4 is event-based. GA4 also doesn't retain user data or rely on IP addresses, while UA does. For more information on the differences between the two, read our blog here.
What should my GA4 report include?
You can customize your GA4 report based on your unique needs, but at minimum, it should include user engagement and activity details.
ZGM Can Help You Make the Switch to GA4
Need some help setting up GA4? Work with Zero Gravity Marketing, a full-service digital marketing agency in Connecticut. Contact us today to learn more and for your free digital marketing analysis.