EarnedCard Digital Marketing Case Study
EarnedCard is an app that allows users to get paid before their payday comes. The app makes cash available for individuals while they earn it, not just on payday.
The focus of this project was to find and speak to four different high-quality targeted audiences. These audiences included individuals who would need and use EarnedCard's offering for various reasons and in different ways. For example, one audience we targeted was people that need money before payday, while another was people using EarnedCard to increase their credit score.
The Challenge
When we started working with EarnedCard, they needed help finding and targeting audiences that would need their services. They required assistance creating and delivering their brand story to people and explaining why they could benefit from something like EarnedCard.
Another element we assisted with was their automation process for following up on leads and moving them through their conversion funnel – which was one of the biggest challenges for the client.
Outcome
Our PPC and email/SMS strategy for EarnedCard proved to be successful. ZGM created a true full-funnel marketing campaign where the top-of-funnel (TOF) and middle-of-funnel (MOF) were implemented through PPC and the bottom-of-funnel (BOF) through email/SMS automation. This resulted in 557 conversions with an overall 1,262,714 impressions and 7,389 clicks in just one quarter (January 2020 to March 2020).
Our graphic design team also played a significant role in creating exceptional visuals for this project, as you can see below.
1,262,714
Total Impressions
Pay-Per-Click
Generating high-quality leads was the priority for this project. TOF and MOF marketing through paid media was the strategy created, which drove sign-ups on the app. We also found strong click-through rates on our landing pages and the landing pages to the app itself. The click-through rate and conversion rate were very strong for an industry that sees historically low numbers in those key metrics.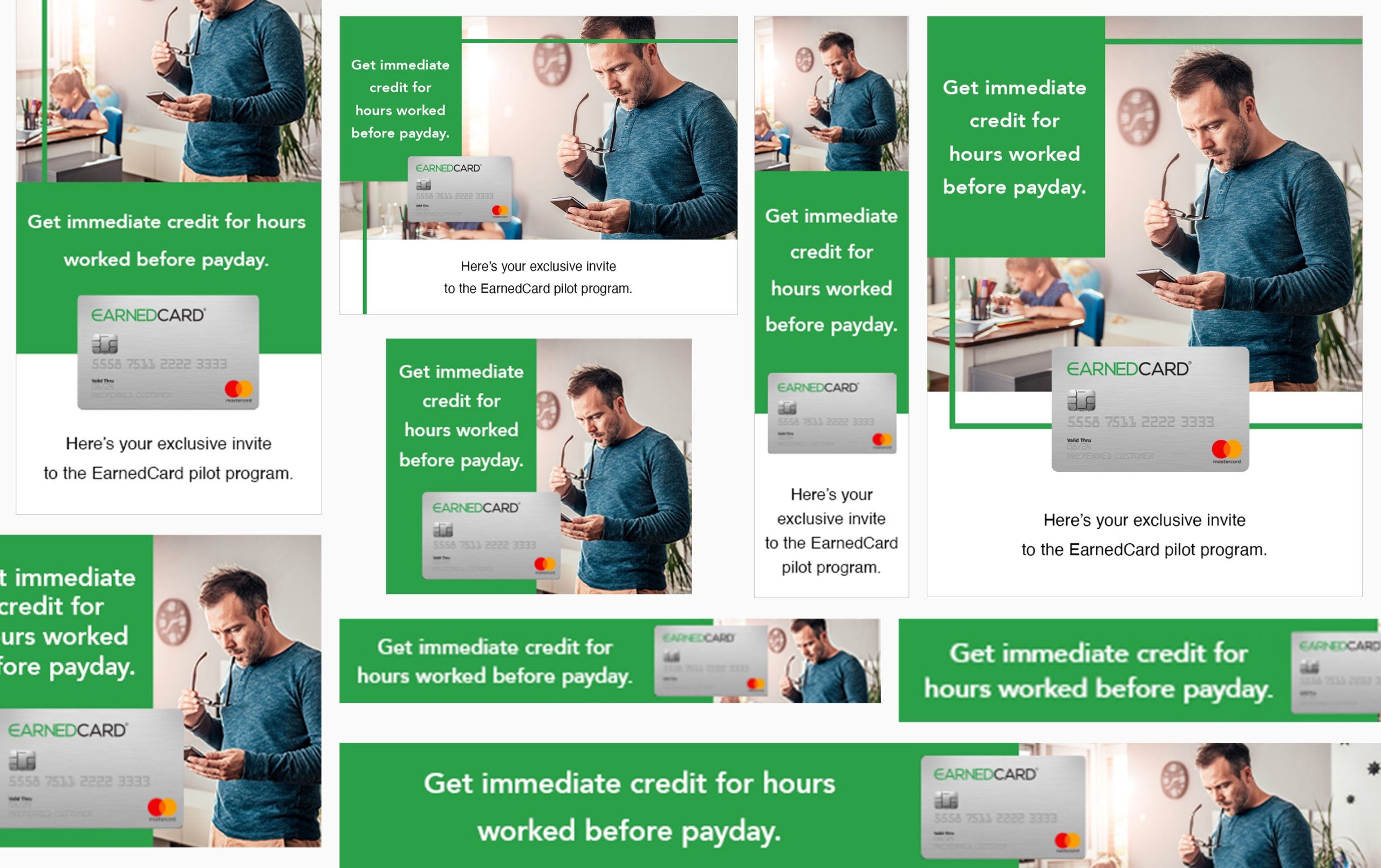 Automation Strategy (Email and SMS)
Our ZGM team spent a good portion of our time on marketing automation. Specifically, we focus on bottom-of-funnel marketing through email and SMS automation. Both of these strategies combined created a very effective lead generation solution and helped in converting visitors from other channels into app users.
Paid Search PPC
Paid Social PPC for Facebook, Instagram
Graphic Design
Automation Strategy
ZGM Awards & Recognition