Want to make the most of your paid search and Pay-Per-Click (PPC) ads? You've probably already been performing ad, audience, and landing page testing. But what can you do to step outside the PPC testing box and get the best possible results from paid search?
A lot! If you need some new paid campaign testing ideas, step right this way!
What Is Paid Search?
Paid search refers to the search results that digital marketers have put money behind to appear at the top of a search engine results page (SERP).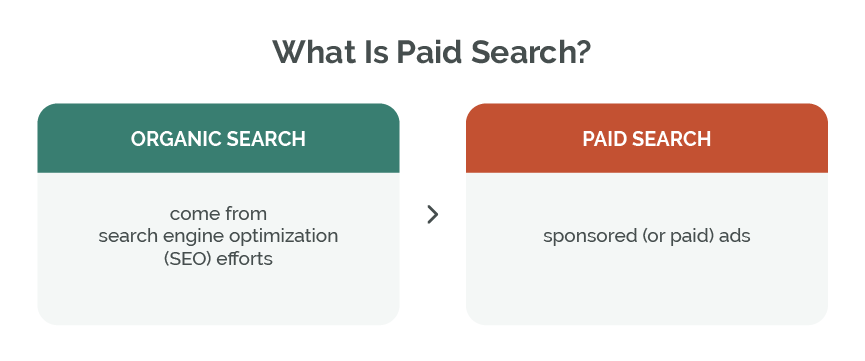 For example, when someone types a search query into Google, they get a list of organic and paid results. Organic search results come from search engine optimization (SEO) efforts, while paid search results are sponsored (or paid) ads. Wondering why your brand isn't at the top? To get your PPC ad in that prime spot, you need to bid on the right keywords or audience.
The beauty of paid search is that you don't actually have to pay for the ads unless a person clicks on them. That said, the more people click on your ads, the more likely you are to convert visitors. Choosing the most effective keywords helps maximize your PPC campaign and deliver the best possible results.
Why Test in Paid Search
With A/B testing, aka split testing, you run two versions of the same ad and compare how each performs. Testing lets you see which phrasing, headlines, and URLs provide the best results – in this case, clicks and conversions. Testing is critical if you want to increase your click-through rate (CTR) and decrease your cost-per-click (CPC).
A/B Testing Options for Paid Search
If you're not completely new to PPC, you've probably already been testing your headlines, keywords, ad body copy, and links. Good for you!
Now, it's time to focus on less common or obvious ways to put your ads to the test.
Bidding Strategy Testing
Google Ads lets you set up automated bidding, which sets bids for ads based on the likelihood of it getting a click. It's a valuable strategy for reaching specific goals. That said, automated bidding can get complicated fast. Testing your automated bids allows you to see what works while keeping complexity to a minimum.
Run several tests using automated bidding, comparing the results you get when you set specific percentages for impression shares.
Max Conversion vs. Max Conversion Value
With Google Ads, you can set your bids to maximize the conversions you get based on your budget. Or, you can set bids to maximize the value of those conversions.
Which one will be better for your brand? Running a test to compare will help you decide. Max conversion value is slightly more advanced than max conversion, but that doesn't mean it's the right choice for you.
Match Type Testing: Phrase vs. Broad
When you choose a keyword for your PPC campaign, you can also let Google know how strict you want to be about it matching user queries. Three types of Google Ad matches exist: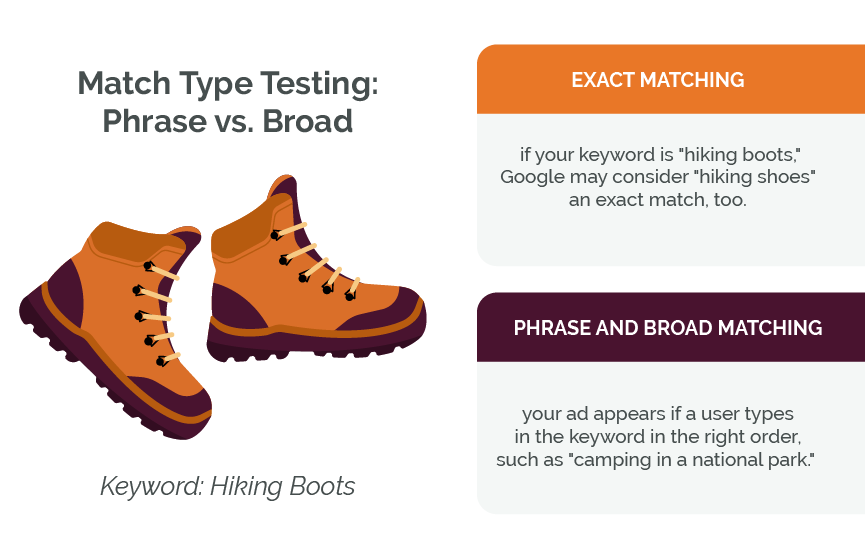 With an exact match, a person must type in the exact keyword or keyword that means the same thing for your ad to appear. It's the most restrictive match type and delivers ads based on what Google perceives as a user's intent or implications. For example, if your keyword is "hiking boots," Google may consider "hiking shoes" an exact match, too.
Phrase and broad matching are more versatile and flexible. With phrase matching, your ad appears if a user types in the keyword in the right order, such as "camping in a national park." The ad will still appear if the user includes more words before or after the keyword phrase, such as "camping in a national park cost" or "tent camping in a national park."
With broad matching, your ad can appear if a user types in any word that appears in your chosen keyword phrase.
If you haven't already, it's worth testing phrase matching and broad matching to see which type delivers the best CTR or conversion rate.
PMAX vs. Standard Shopping
You can choose a standard, manual campaign or the automated Performance Max (PMax) version if you're running a shopping campaign. There are differences between each; the only way to see which one provides better results for your campaign is to test and compare.
Let ZGM Handle Your PPC Efforts
Want to maximize your PPC campaigns but don't have the time (or energy) to run multiple split tests yourself? Zero Gravity Marketing can help. We're a Connecticut-based digital marketing agency specializing in SEO, strategy, and paid search. Contact us today to learn more or to request your FREE digital marketing analysis.