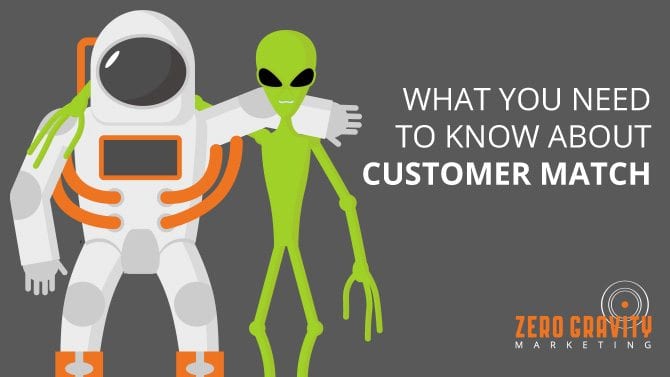 What You Need to Know About Customer Match
Customer Match is a relatively new option in AdWords and definitely worth your time. Essentially, Customer Match allows brands to show PPC ads to their own email address list. Once your email contact list is uploaded into AdWords, Google will show those users your targeted PPC advertisements when they use Google Search, Gmail, or YouTube (the Google Display Network is currently not a part of Customer Match).
Why Customer Match is Groundbreaking
Customer Match is pretty exciting because it allows brands to target people who have already expressed interest in their brand, and since the ads also show up in Gmail, it's an excellent way to reinforce email marketing efforts. Even more importantly, Customer Match lets the company create several lists so that the ads seen appear personalized. For example, a restaurant could upload an email list of their customers who have a birthday this month. Then, when those people login to their Gmail account, they will see a special birthday offer for 20% off their next visit.
Tips to Improve a Customer Match Campaign
Since Customer Match is new, there are still a lot of questions about it. Here are the key details that we think an advertiser needs to know before integrating Customer Match into their email marketing campaign:
All email addresses uploaded must be obtained directly from the user. This can be through in-person events, website forms or apps. Basically, the user has to give the email address willingly to the company for them to use it with Customer Match.
A company must include an opt-out link when creating their Customer Match ad. If the user clicks on "Why This Ad" they will be able to opt-out.
If an advertiser is reluctant to use their customers' email addresses this way, or if they want a different targeting option, they can still upload an email list and just choose to target similar users.
Customer Match is not limited to only Gmail addresses. If non-Gmail addresses are uploaded, Google will do their best to still match it up to a Google user (like on Google Plus or youtube).
The process of uploading an email list and waiting for Google to find matches can take up to 24 hours.
An email list must contain at least 1,000 matched addresses to be used for search, and 100 for Gmail and YouTube, so always upload more in case they can't all be matched.
Any other targeting that is already set up will be layered in with the email list. Make sure the targeting doesn't get so specific that the ad is barely shown.
While Customer Match isn't a replacement for other AdWords options, it is certainly a simple and effective way for companies to target people who have already expressed interest. To test out Customer Match using your email contact list, contact Zero Gravity Marketing today.