Navigating the competitive landscape of local businesses can be a big ask, especially when standing out and competing in search engine results. That's where our comprehensive local search engine optimization (SEO) checklist comes into play. This guide is designed to be your go-to resource for optimizing your website, giving you a leg up when it comes to marketing your business online, capturing the attention of local customers, and, ultimately, increasing your revenue.
What Is Local SEO?
Local SEO is a specialized form of SEO that focuses on increasing a business's visibility in local search results. Unlike traditional SEO, which targets a global audience, local SEO aims to capture the attention of potential customers in a specific geographic area. This is particularly beneficial for brick-and-mortar stores, service providers, and small businesses that operate within a particular location.
Local On-Page SEO Elements
Local Keyword Research
Before you can optimize your website for local search, you first need to understand what your potential customers are searching for and what their goals are. Are they searching for an answer to a question? Or, in the case of local SEO, are they looking for a local service provider? Tools like Google Keyword Planner or SEMrush are a few of our favorites when helping to identify local keywords that are relevant to your business and have a high search volume. For example, if you run a bakery in New York, you might target keywords like "best bakery in New York" or "New York cupcakes."
Optimize Title Tags
Title tags are one of the most essential parts of on-page SEO, acting as the headline for your webpage when it appears in search engine results. A well-crafted title tag can significantly impact your click-through rates (CTR) and search engine rankings. When it comes to local SEO, it's best practice to optimize your title tags with local keywords and geographic locations to give yourself and your business a competitive edge.
Title tags tell search engines and users what a particular page on your website is about. If you have a local business, this is an opportunity to immediately communicate your service area and what you offer. For example, a title tag like "Best Italian Restaurant in Chicago | [Your Restaurant Name]" is far more informative and SEO-friendly than a generic one like "Welcome to [Your Restaurant Name]."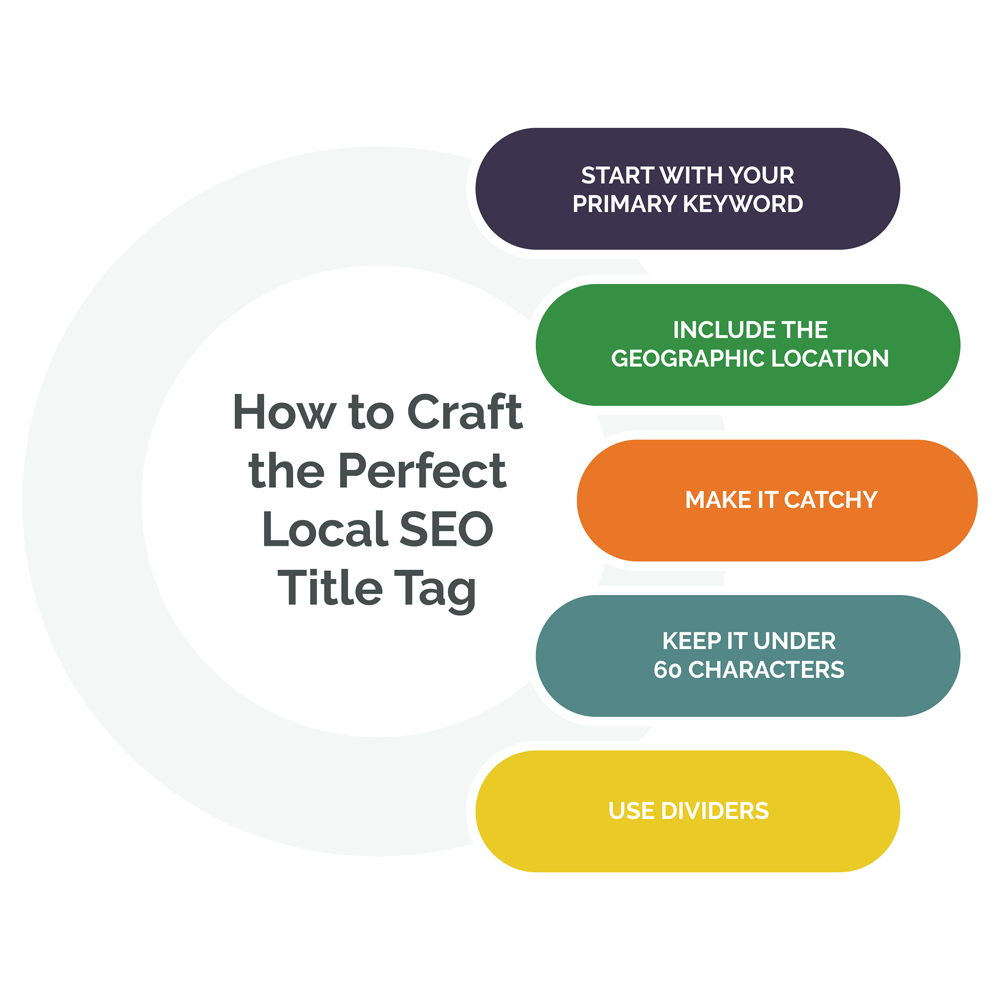 How to Craft the Perfect Local SEO Title Tag
Start With Your Primary Keyword: Your primary keyword should be at the beginning of the title tag. This is what you want to rank for, such as "Italian Restaurant" or "Dental Clinic."
Include the Geographic Location: Always include the city or area where your business is. This helps search engines understand where your business is relevant.
Make it catchy: Give users a reason to want to click on your page by providing some interest to incentive them to continue reading
Keep It Under 60 Characters: Search engines typically display a title tag's first 55-70 characters. Make sure your most important information fits within this limit.
Use Dividers: Use dividers like pipes (|) or dashes (-) to separate parts of your title tag for readability.
Optimize Content
Content is king (or queen), especially when it comes to local SEO. Your website content should be rich in local keywords; however, it should also provide valuable, localized information that your potential customers want answers to. This could include local events you're participating in, partnerships with other local businesses, or even local news related to your industry. The more relevant and engaging the content is, and the more you can answer the queries of the people searching, the better chance you have of ranking in Google at the top of the search results.
Structure Your URLs
A well-structured URL can significantly impact your local SEO rankings. Make sure your URLs are not only SEO-friendly but also include your local keywords. For example, a URL like https://yourwebsite.com/new-york-bakery is more beneficial than a generic URL.
Create Location Landing Pages
If your business has multiple locations, creating separate landing pages for each one is beneficial. These pages should be optimized for local keywords specific to each location and provide relevant information such as address, operating hours, and services offered to the people in the area.
Use Structured Data
Structured data, also known as schema markup, helps search engines better understand the content on your website. This can include information about your services, customer reviews, operating hours, and more. Implementing structured data can significantly improve your visibility in local search results.
Showcase Your Testimonials
Customer testimonials and reviews are social proof that can have a big influence on a potential customer's decision to choose your business. Make sure to showcase these prominently on your website, especially on your product or service pages.
Local SEO Google Elements
Google Business Profile
Your Google Business Profile (formerly known as Google My Business) is often the first thing a potential customer sees when they search for your business. Make sure it's fully optimized with up-to-date information, high-quality images, and customer reviews. For more details on how to optimize your Google Business Profile, we've created a comprehensive guide to help you.
NAP Details
NAP stands for Name, Address, and Phone Number. This information must be consistent across all platforms, including your website, social media, and online directories. Inconsistent information can confuse both search engines and potential customers, ultimately hurting you in the long run.
Get Reviews
Online reviews are a big factor in local SEO rankings. Encourage satisfied customers to leave positive reviews on your Google Business Profile and other review sites. You can even offer giveaways or free items to entice people to do so. The more high-quality reviews you have, the higher your rankings in local search results.
Local Off-Site SEO Elements
Acquire Backlinks
Backlinks, or inbound links from other websites, are a strong indicator of your site's credibility and authority. To boost your local SEO efforts, you'll want to acquire backlinks from reputable local businesses, newspapers, or blogs. A backlink can be seen as a way for another website to endorse your site to Google. As the number of quality backlinks to your website increases, so does your dominance in the SERPs. It's no secret that this significant ranking factor can catapult your online presence to new heights.
Create Citations & Get Listed
Citations are online mentions of your business, usually in local directories like Yelp or Yellowpages. Ensure your business is listed in as many relevant, high-quality directories as possible.
Number 1 Tip: Contact ZGM for Your Local SEO Strategy
Local SEO is a complicated area of digital marketing, and while our checklist provides a solid foundation, it's constantly evolving. If you're feeling overwhelmed, contact Zero Gravity Marketing for expert local SEO services. We offer a range of SEO services, including Google Business Profile management and local SEO audits, to help you get your brand noticed and increase those search rankings.