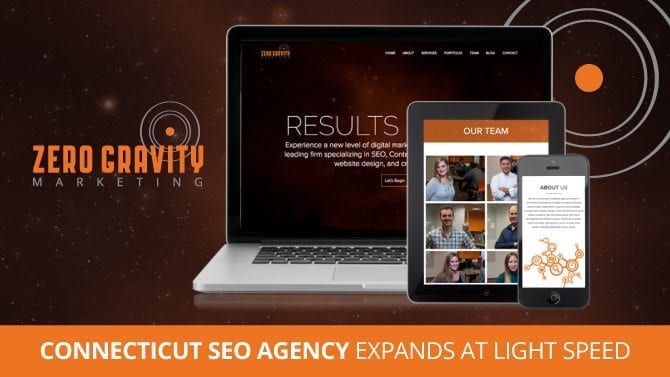 Zero Gravity Marketing Reports 70% Annual Growth, Making Them One of the Largest and Fastest Growing SEO Agencies in CT
Branford, Connecticut (April 28, 2015) – Zero Gravity Marketing has been growing at light speed since its inception in late 2012. In the past year they have grown by 70%, and they have tripled in size since 2013. They now employ 14 full time employees making them one of the largest SEO agencies in Connecticut. Fueled by growth they have moved to a larger office space and launched an updated website.
Zero Gravity Marketing specializes in search engine optimization (SEO) and offers Digital Marketing services from content creation to PPC campaigns and responsive website design. They also develop print campaigns, design logos, and produce large-scale graphics and car wraps. While they do have nationwide clients, Zero Gravity Marketing takes great pride in helping Connecticut businesses grow with their proven marketing strategies.
When asked about the reason for the SEO agency's record growth, Chris Uzzo, President and Owner of Zero Gravity Marketing says, "Our results driven approach and transparency with our clients has been a real differentiator. We hope to change the face of SEO by making SEO easy to understand, regularly communicating with our clients and using the latest SEO techniques." He couldn't be more thrilled with their record growth and is excited to see what the future holds.
Since 2003, team members with Zero Gravity Marketing have been paving the way for digital marketing. They hope to continue boosting Connecticut's economy by helping businesses of all sizes to succeed. To find out what they can do for you, visit zerogravitymarketing.com.
###