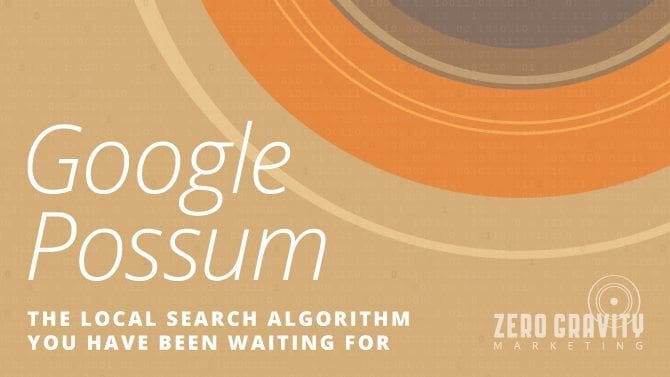 The local search algorithm has always existed, but until September 1, 2016, it didn't really have a name. Introducing Google Possum: the unofficial name of the local search algorithm that may very well change the way you approach local SEO. Here is a brief overview of how this updated local search algorithm impacts local SEO:
Companies Outside City Limits Will Earn More Visibility
If your location is not within city limits, chances are you have been having a difficult time showing up in the Local Pack. But that's not really fair, since your target audience does, in fact, live in that city. Now, Google Possum will consider nearby cities as well as the actual term being searched. For example, if you have a landscaping company that is right outside of Branford, CT, you now have a chance of showing up at the top of the SERPs when people search "landscaper in Branford".
More Specific Filter for Duplicates
Another issue that has been plaguing local SEO is the fact that many companies have multiple locations, yet they share the same domain name or phone number. In the past, the local search algorithm would filter out all but one of the locations in the Local Pack, assuming that they were duplicate listings. Now, Google Possum also considers the address, so each location will be considered a separate listing (like it should have been all along).
The Possum Algorithm Operates Independently
When someone searches geo-specific terms, Google uses the local search algorithm to produce results. We now know that Google Possum actually runs independently from the other organic SEO algorithms, such as Panda and Penguin. This means that even if you aren't showing up for more generic keywords, you can show up on the Local Pack thanks to Google Possum.
More Precise Matches According to Location
In a move that finally catches up with technology, Google Possum will now actually consider the user's IP address when producing local SEO results. So the searcher will be shown the matches that are literally the closest to them instead of just choosing the top listings for the city searched. This is great news for brands with a lot of competition in the same city: They can still capture those searchers who are closest to them.
Long-tail Keywords Considered Separately
When approaching local SEO, it's always important to use your main keyword and your city and state. But in the past, queries such as "landscaper Branford CT" and "Branford CT landscaper" would produce pretty much identical results. With Google Possum, these terms are now being considered more independently, so you will want to make sure to use all variations to ensure you show up in the Local Pack—or you can just focus on the one term with the highest search volume.
Since the Google Possum update is still relatively new, it's safe to say these are just the preliminary changes and there will be more updates coming soon. We will continue to monitor these local search algorithm changes and tweak our local SEO strategies accordingly. To learn more about how Zero Gravity Marketing can help you rank in the Local Pack, contact us today.